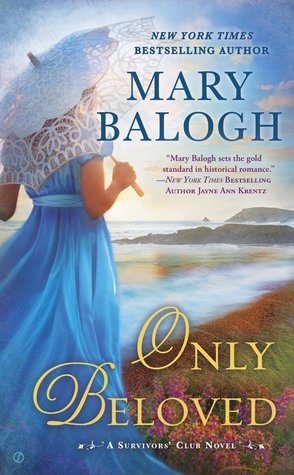 In Only Beloved (The Survivors' Club #7) by Mary Balogh, George, the Duke of Stanbrook, has devoted the last several years to helping his fellow Survivors move forward, reclaiming their lives. And now they have all thankfully found love and are embarking on a new journey. Except for him. But George has decided that he, too, will try to find happiness. That being a widower doesn't mean he can't find a comfortable relationship to enjoy. The first woman he thinks of is lovely Dora Debbins who he briefly met last year. While he knows that theirs might not be a love match to start, he hopes their affection for one another will grow throughout their lives.
'She was the wife for whom he had unconsciously longed perhaps all his life, and he dared believe he was the husband she had dreamed of and been denied as a very young lady.'
As a music teacher, Dora has a comfortable, if not solitary, life in her own little cottage. She had once longed to become a wife and mother but taking care of her younger sister took precedence. Getting a marriage proposal from the one man–a duke, no less!–who she has never forgotten after their chance meeting means a whole new life for Dora. And while she is excited to finally become a wife in her late thirties, she worries that she won't be able to help George find true happiness until she assists him in getting over his painful past.
"You are so very good at that," she said.
"At…?" He raised his eyebrows.
"At giving comfort," she said. "But who comforts you, George?"
She could have sworn for a moment that it was deep pain she saw in his eyes, but then they smiled with a kindness that was almost like a shield.
"I draw my comfort from giving it," he said.
The final full-length novel in The Survivors' Club series definitely lived up to my expectations. And then some. George and Dora carried us readers along on their touching journey as they conquered past issues and opened up a whole new wonderful chapter in their lives, as a couple.
"But life is as it is. We never know what twists and turns it will take or what hand we will be dealt. It is what we do with the unexpected and with that hand that shows our mettle."
Mary Balogh has become one of my favorite Historical Romance writers and this series is the reason why. Every book can be read as a standalone, but I think readers will get so much more out of the experience if they read them all. Especially with this final installment, Only Beloved, as we got to see the other Survivors through George's patient eyes. The writing was beautifully done, explaining and detailing every potent emotion George and Dora worked through before and after their trip down the aisle. If fact, it was written in such a convincing manner that I teared up several times during poignant moments. (And there were several!)
Aside from knowing that all seven of the Survivors now have HEA's, what I enjoyed most was that this was a romance about 'mature' adults. Dora was thirty-nine and George forty-eight when this story began. It was nice to see them find companionship and love at a later time in their lives than most novels focus on. The other interesting aspect between them that came into play was that Dora had never before been married so everything was new to her, as opposed to George, who was a widower. They each brought different perspectives into the relationship which at times made things a bit challenging for them.
Like I said before, there were a lot of emotions Dora and George had to sort through so, as readers, we spent a lot of time in their heads while they made sense of those feelings. I think some readers may not like that introspection as much, but I thought it was crucial for them if they were to grow as individuals. Things did get much more heated–in and out of the bedroom–as the book carried on. And while some of the plot twists may not have been shocking if readers payed attention to the hints and clues, Mary Balogh did a nice job of giving us a complex enough plot to keep things interesting.
I am so sad to say goodbye to this lovely group of characters. Only Beloved was an incredibly tender and heartfelt send off for fans of the Survivors' Club series. We of course got caught up with the previous couples, but most importantly, we finally got to see gracious and caring George find the love of his life. *happy sigh*
Book Info:

Published May 3rd 2016 | by Signet | The Survivors' Club #7
From the legendary New York Times bestselling author of Only a Kiss and Only a Promise comes the final book in the rapturous Survivor's Club series—as the future of one man lies within the heart of a lost but never-forgotten love…
For the first time since the death of his wife, the Duke of Stanbrook is considering remarrying and finally embracing happiness for himself. With that thought comes the treasured image of a woman he met briefly a year ago and never saw again.
Dora Debbins relinquished all hope to marry when a family scandal left her in charge of her younger sister. Earning a modest living as a music teacher, she's left with only an unfulfilled dream. Then one afternoon, an unexpected visitor makes it come true.
For both George and Dora that brief first encounter was as fleeting as it was unforgettable. Now is the time for a second chance. And while even true love comes with a risk, who are two dreamers to argue with destiny?