Only for You by Barb Curtis is the second book in the Sapphire Springs series. It can be read as a stand-alone but I loved the first book,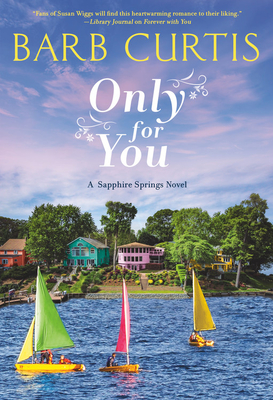 Forever with You, and recommend reading it. This is actually the second book Barb Curtis has written and published. I was amazed by her talent and how beautifully written the first book was. And she did it again! This is a small-town romance between two best friends who fake a relationship with each other. But where does faking it stop and real feelings come about?
Emily Holland has secretly crushed on Tim Fraser since high school but was finally giving up on a relationship happening. Her New Year's resolution was to stop hanging out with Tim and meet other guys. However, she could not let her best friend down when he needed her, especially when the reality show that his ex-girlfriend dumped him on publicly is running. Pretending to be his fake girlfriend was not easy when she wants it to be real.
Tim Fraser had his heart broken on national television when his girlfriend broke up with him on a reality show. Now the show is showing, and he is being chased by women blowing up his media accounts and coming to his store. He has sworn off on relationships and wants to be left alone. He hopes that having a fake girlfriend will stop all the attention he is getting and who would better to play the part than Emily, his best friend.
"When lifted from the water, the anchor represents embarking on a new voyage-a new adventure. There's hope for what's to come… When an anchor is lowered into the water, we rely on it, trust it not to move. Even through the stormiest of weather, the craziest of tides, it remains grounded and doesn't waver. It symbolizes strength, hope, and stability. And a safe end to a long journey."
This was such an amazing story. I loved seeing Tim and Emily's relationship grow as they discovered more about each other as they spent time together. Emily had loved Tim for as long as she could remember but she valued their friendship so always kept them in the friend zone. Tim's feelings for Emily were overwhelming for him and he wants to be with Emily, but his fears hold him back from making a commitment or defining their relationship. He must decide if he is willing to lose Emily, his anchor, over his fears or if he can be brave enough to fight for his love. This heartwarming book was entertaining and charming. I look forward to future books from this amazing author.
Book Info:

Publication: July 29, 2021 | Forever | Sapphire Springs #2
Will a fake relationship between two friends lead to true love?
After having his heart broken on national television, Tim Fraser knows only one way to stop the gossip about his love life-a new girlfriend. The problem is, he's done with romance forever. A fake relationship with his friend and Sapphire Spring's sweetest baker, Emily Holland, seems the perfect solution to getting rid of his newfound fame, but their fleeting fauxmance is stirring up the kinds of feelings Tim has sworn off for good.
Emily has secretly lusted after Tim for years, but pretending her feelings are all for show never factored into her fantasy. Still, her decades-long crush makes it impossible to say no to Tim's proposal. But with each date, the lines between pretend and reality blur, giving Tim and Emily a tantalizing taste of life outside the friend zone . . . if they can find the courage to give real love a chance.