In Outback Dreams by Rachael Johns, Faith Forrester is ready for a change in her life. She feels like she hasn't accomplished anything while just keeping house for her father and brother and tending a few things around the farm. She dreamed of being an equal partner on the farm and eventually having a home and family of her own. When Faith is forced to pretend her best friend Monty is her boyfriend, she realizes for the first time that what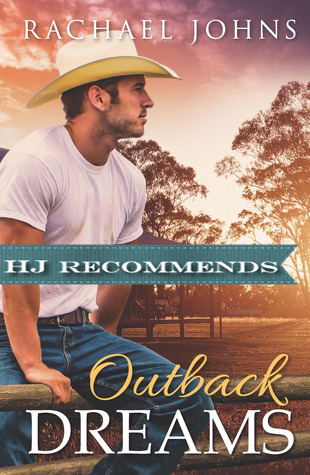 she's been looking for over the years may be closer than she ever dreamed.
"You're beautiful, Faith. You've always been beautiful."
"Oh, Monty." There were tears welling but she bit them back. "Shut up and kiss me again."
His laugh was music to her ears, his words were like drugs to an addict. "I can do better than that."
Daniel "Monty" Montgomery's hard work is just about to pay off. Finally. He has made enough money to put down on a farm and realize his dream of running his own ranch. His best friend Faith has supported him in his endeavors his whole life. When she has to step into the role of pretend girlfriend, though, Monty sees her in a whole new light. As scary as it is, he wants to take a chance and find out where this new chapter in their relationship takes them, but doesn't want to lose her friendship in the process.
'He may have only just noticed, but she was everything any man would want in a wife. Good on the farm, an excellent cook, the best sense of humour and a body to run your hands over and… Any man but me that is.'
Outback Dreams is a sweet contemporary romance set in, you guessed it, Australia, and it's based one of my favorite tropes: friends-to-lovers. Rachael Johns has written a story that delves into family issues, friendship, romance, and small town living at its finest.
I always enjoy stories set in Australia as the people are tough but caring and there's a wonderful sense of camaraderie. Bunyip Bay is certainly no exception. The townspeople all have their own worries and tales to tell but they band together to help Faith with her efforts to raise money for an important charity. And it sounds like we will be getting to know this cast of characters better in two more Bunyip Bay stories to come in the near future as well. Yay!
Our hero and heroine, Monty and Faith, have been best friends since they were young children and have never really strayed from the relationship over the years. They didn't realize the feelings they had for one another until they were forced to play the role of pretend boyfriend/girlfriend and then noticed the sparks between them. I loved how comfortable Faith and Monty were as friends and that they were equally worried about taking the next step because they didn't want to lose that valuable friendship. It seemed very genuine and like a realistic issue they would have to deal with.
I loved the funny down-home moments scattered throughout the story between the bigger, more dramatic issues. The times that Faith and Monty joked and teased, and when they hung around with friends showed them as the young and lively people they really are. And their blooming romance was wonderful to watch. They had such a strong connection after having shared so much history together.
I would definitely recommend reading Outback Dreams if you enjoy touching contemporary romance with lovely characters.
Book Info:

HJ Recommends
Published October 1st 2013 by Harlequin Enterprises Australia
Faith and Monty are both looking for love…but they're looking in the wrong direction.
Faith Forrester is at a crossroads. Single, thirty and living on a farm in a small Western Australian town, she's sick of being treated like a kitchen slave by her brother and father. Ten years ago, her mother died of breast cancer, and Faith has been treading water ever since. She wants to get her hands dirty on the family farm. She wants to prove to herself that she's done something worthwhile with her life. And she wants to find a man…
For as long as he can remember, Daniel 'Monty' Montgomery has been Faith's best friend. When he was ten, his parents sold the family property and moved to Perth, and ever since, Monty's dreamed of having his own farm. So for the last ten years, he's been back on the land, working odd jobs and saving every dollar to put toward his dream. Now he finally has the deposit. But there's still something missing…
So when Faith embarks on a mission to raise money for a charity close to her heart, and Monty's dream property comes on the market, things seem like they are falling into place for them both. Until a drunken night out ends with them sleeping together. Suddenly, the best friends are faced with a new load of challenges…
Monty and Faith are both ready to find a life partner and settle down, but have they both been looking in all the wrong places?