In A Rancher's Christmas by Ann Roth, Gina Arnett is on her way to becoming the next vice president of one of the biggest marketing companies in Chicago. But right before Thanksgiving she receives a call from one of her uncles, to let her know that her uncle Lucky has passed away from a heart attack. Now Gina not only has to fly home to Saddler's Prairie, Montana to help her elderly uncle and cousins plan everything for the funeral and get all of her uncle Lucky's things in order, she also has to plan to make sure that her assistant can take care of her accounts in her absence and most of all the biggest account that she is taking care of which will bring in her biggest bonus which she so badly needs.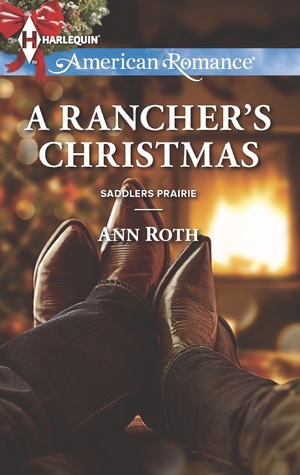 Zach Horton is the late Lucky's ranch foreman, but also the closest thing that Lucky had to a son. Zach knows everything about the rat race of business, but also knows what all the sacrifices cost to the soul. Which is why now he is the ranch foreman, even if three years ago when Lucky hired him he knew nothing about ranching. Now with Lucky gone, Zach has to work on fulfilling Lucky's last wish, to convince Gina to keep the ranch and stay in Saddler's Prairie. But Zach had never met Gina, only knew her by what her family said about her, since she never made time to visit them, even during the holidays her work was more important.
Now Gina is staying over Thanksgiving and is due to return to Chicago the Monday after, which gives Zach a little over a week to try and convince her to keep the ranch. But being close to her is not easy, for he can immediately see that she is looking for a CEO, a businessman with her same outlook in life and no matter the chemistry and attraction, he is not returning to that life, he is happy as a rancher.
Gina finds herself extremely attracted to Zach, but she won't act on something that she cannot see through. Her life and dreams are in the city and Zach won't leave the ranch. Besides she is not wired to have flings and that would be all she could have with Zach since she is only to be there a little over a week.
Only Mother Nature has other plans, and throws a wrench on Gina's when what they believe will be the storm of the century happens and Gina will be stuck in Saddler's Prairie for longer than she anticipated. Unfortunately for her, her assistant has been dropping the ball at work and her boss is not happy with either of them, which not only put her bonus at risk, but also her job.
Zach and Gina will have a lot of things that they need to resolve before they can have the happiness that they found in each other. Not only do they need to find peace about the past, but also about the present and the secrets that are being kept from everyone.
There are lots of sweet and heartwarming moments in this story that made me smile. But Gina's cousins Sophie and Gloria just made me laugh each and every time, especially with their matchmaking. The ending was just a really wonderful surprise from both Gina and Zach, you have to read it to find out. But it definitely keeps you in suspense for a few pages there.
If you like a sweet, heartwarming and entertaining read with a small town feel, don't miss A Rancher's Christmas by Ann Roth.
Book Info:

October 1st 2013 by Harlequin American Romance (Book 1472)
A Holiday Change Of Heart
Gina Arnett comes home to Saddlers Prairie to say goodbye to her uncle and sell the family ranch she's just inherited. Her focus is on getting back to Chicago and her high-powered job. Two things change her plans: a sudden blizzard that causes the town to be snowed in, and Zach Horton—the ranch foreman who tries to convince her to stay.
Gina's boundless ambition is something Zach understands all too well. He's kept his past a secret, and to uncover it, she'll have to reveal her own uncomfortable truths—and her growing feelings for Zach. He's not the kind of man she dreamed of falling for. But at the Christmas season, all dreams seem possible….