Over the Edge by Meredith Wild is wickedly hot and makes a great addition to The Bridge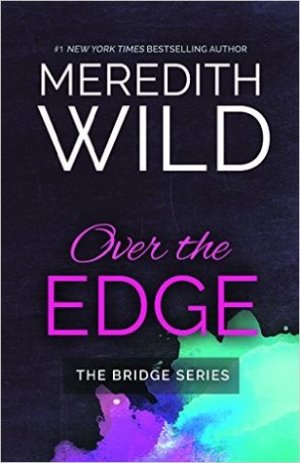 Series. This is the third book but can be read as a standalone for those who are unfamiliar with the series.
Olivia is the good girl, the one who always does what her parents say. She's trying to make her own path and it starts with helping her brothers open their fitness centers. This leads her to Will. Right from the beginning, Will and Olivia share some serious tension and what starts as a one-night stand for Olivia and Will, ends with so much more, especially when Will's best friend, Ian, decides to join in on the fun. Olivia, Will, and Ian share many emotional moments that leave them tied to each other.
The characters show a lot of growth during this story and I ended up appreciating them more by the end. We see Oliva grow into her own throughout the story. Will was a hard sell for me. He was very vocal about how he wasn't into relationships and his goal was to sleep with spoiled rich women and break them.
"Let me be clear, Oliva. I'm not a guy you date, and I'm nowhere near husband material. I'm the one you mess around with until the right guy comes along – one your parents will approve of."
After one night with Olivia, his story changes. I didn't buy Will's change of heart that fast, but by the end of the book, it's clear how much he cares for her and their relationship. As for Ian, he wanted Oliva from the beginning and you tell how much desired her, but because of who she was and the relationship he has with her brother, he backed off. But once he saw her with Will, it was okay to pursue her. The three of them together work effortlessly, but will it last?
The story is hot, no doubt about that and the characters are sexy, intriguing, and flawed. I enjoyed the writing and how easy it was to get into the story. Overall, it was a good read and if you like your romance with more than two people in it, this is a good pick for you.
Book Info:

Publication: November 22nd 2016 | Waterhouse Press | The Bridge Series #3
Olivia Bridge has always been a good girl—good grades, good friends, and a good job that her wealthy parents handed her. Desperate to carve out a life that is truly hers, Liv walks away from it all and takes on the challenge of helping her brothers open a chain of fitness centers in New York City. Just as she's beginning to find her footing in a new place, she's caught between two men who couldn't be more determined to turn all her goodness inside out.
Will Donovan has the capital to make the Bridge brothers' entrepreneurial dreams a reality. Taking their uptight sister to bed seems a reasonable perk for the risk. Liv is the smartest, sexiest prude Will's ever met, and he can't wait to break her down.
Life is too short for Ian Savo to play by anyone's rules. Sharing women with his best friend isn't anything new, so when Will introduces him to Liv, he can't wait to get a taste. But falling for the same girl, or falling at all, was never in the plans…