Paper Wedding, Best-Friend Bride by Sheri Whitefeather: Best friends from the ashes of their very different childhoods, but now in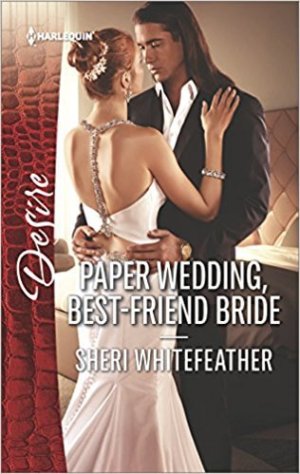 adulthood there are all of these feelings that they can't quite hide. The problem more is do they want to?
Lizzie McQueen had no room in her life for love, certainly not for being a parent or even interacting with children. She knew she wanted to help her best friend though and all that he wanted to do. She also knew how difficult it was going to be to go to an orphanage and help children she didn't think she was going to be able to connect with.
Max Marquez had needed some time off. He had needed to find himself, he just never expected to find himself at an orphanage in Nulah caring for a young boy. Now he was back and wanting to figure out how to help and how to get his young friend to become his young son, without a wife.
Max and Lizzie knew the traumas from their past had hurt them and were still affecting them, but what they didn't realize was that their friendship had only gotten stronger as time went on and when put to the test would they realize how far it could bend before breaking?
Ms. Whitefeather has continued the sage of the brothers in a spectacular way. This is a story of two hurt people healing and finding love. The characters themselves are well done and well presented. The attention to detail in scenery and location is truly impressive. There are some heat scenes but this is more about finding your way through the ashes rather than anything else.
Book Info:

Publication: March 7th 2017 | Harlequin Desire | Billionaire Brothers Club #3
To adopt a child, best friends conveniently tie the knot. But will they inconveniently fall in love?
Since they were young, tech mogul Max Marquez and socialite Lizzie McQueen have always agreed on one thing: they're just friends! But fate has thrown them a curveball in the form of a lovable orphan who needs a good home. To adopt the little boy, they must marry. And to marry, they must face the unthinkable: sharing a bedroom! Will they discover that their friendship is a facade for a deeper attraction, long denied, causing their arrangement to spin right off its axis?
Paper Wedding, Best-Friend Bride is part of the Billionaire Brothers Club series.