Reunited with the Rancher by Sara Orwig: Grief is a weird thing, everyone handles it differently and no one realizes what anyone else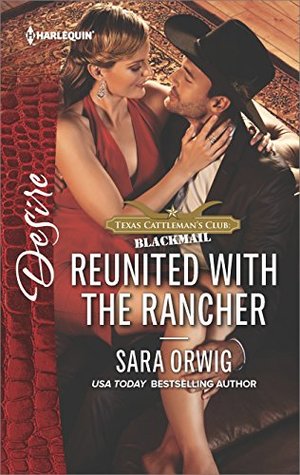 needs. In fact it's such and individual thing that many times you can even forget about everyone else.
Tom and Emily Knox know all about this. After losing their son their lives dramatically changed and neither one of them knew how to interact with anyone else or even with each other. They were starting to realize though that they loved each other enough to let the other reach for their dreams. Until the Royal "troll" entered their lives and their marriage. Then all beats were off, together they were going to fight this. In a battle against the troll but maybe for their marriage?
Ms. Orwig is an author that I enjoy reading and I love the Royal, TX Cattleman's series so I was very excited about this. Unfortunately it has left me wanting. The lines are there for a great story but it's disjointed and not at all in Ms. Orwig's normal style. The story does continue the series and we are left wondering more about Nathan, the troll and the new committee. This is a story with sadness and some redemption though.
Book Info:

Publication: March 1st 2017 | Harlequin Desire | Texas Cattleman's Club: Blackmail #3
Will secrets tear this rancher's marriage apart—or lead to a reunion? Only from USA TODAY bestselling author Sara Orwig!
For estranged husband and wife Tom and Emily Knox, a heartbreaking loss in their past is keeping them apart in the present. They still share a ranch, but not a bed. And when the blackmailer terrorizing Royal, Texas, accuses Tom of keeping a secret family behind Emily's back, they're thrown into an even deeper tailspin. But could the darkest misunderstanding contain the seeds of a second chance, as Tom and Emily come together to dispel false accusations and face their past?