In Past Perfect by Danielle Steel, An amazing career opportunity too great to pass up brings Blake Gregory,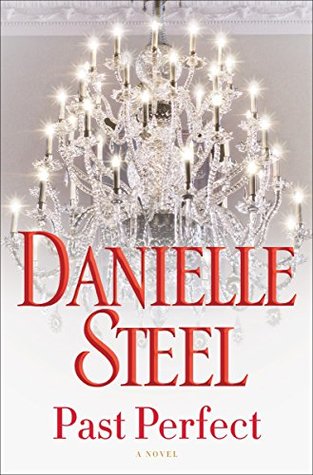 along with his wife and kids, to San Francisco. The lifelong New Yorkers never pictured themselves living on the opposite coast but once Blake and Sybil both fall in love with a local historical mansion up for sale, they find that they enjoy the area and all it has to offer. But after a couple of strange occurrences, Sybil shockingly discovers the mansion is haunted by the family who built it in the early 1900s: the Butterfields. Their spirits seem every bit as real as her own family is, which allows them all to interact as normal living people would–even dine together.
'This was only the beginning of a friendship between two families that had been determined by the fates, and would ultimately bless both. She could feel it deep in her soul.'
As amazing as it seems to Blake and Sybil that they're sharing a house with ghosts, it turns out to be a wonderful thing for them all. Friendships are formed, advice is given, games are played by the youngest children, and somehow two generations–exactly one hundred years apart–seemingly meld together. Through the triumphs and devastating losses each family endures, they are there for each other, day after day. The lessons the Gregorys learn from the past and the eye-opening view of the future the Butterfields receive opens up a whole new world to them all, allowing them to support one another and truly become a combined family who has each other's best interests at heart.
'As odd as it seemed, she knew that this was where she belonged, even if her best friends now were all ghosts.'
Part ghost story, part family drama, unique and intricately woven, Past Perfect is the latest offering by bestselling author Danielle Steel.
Past Perfect had a pretty cool premise, being that it was basically a ghost story with two timelines running simultaneously: The Butterfields in 1917 and the Gregorys in 2017, two families who could interact together even though they were a century apart. And while I liked the story overall–especially comparing the differences in the two families' daily lives and the history involved–there were times when it felt like there was too much "telling" and not enough "showing". It read almost like a fairytale in a way, like Steel was narrating the story. Unfortunately it didn't feel to me like there was enough engagement with the characters at times, although by the end I was interested in seeing how the Butterfields and Gregorys would inhabit the same space and coexist on an ongoing basis.
There were a few moments where I had to sit back and think through what was happening–it was all a bit mind-bending in a way. Without giving too much of the story away, the ghosts of the Butterfield family seemed corporeal to the Gregorys, meaning that they appeared to be real living people. Even though they hadn't been alive in many decades. That was interesting on its own, but watching each person in the two families learn and grow as a result of their unusual situation was quite heartwarming. I liked that it made them more grounded, compassionate individuals as a result of their shared existence.
Filled with the ups and downs of real life, Past Perfect explored love, loss, joy, heartbreak, and the undeniable bond of family.

Book Info:

Publication: Published November 28th 2017 | Delacorte Press |
A magical tale of a modern family sharing a gorgeous Pacific Heights mansion with their ghostly, elegant predecessors.
Sybil and Blake Gregory are the quintessential 21st century power couple: she a cutting-edge interior designer; he a forward-thinking top business analyst. They revel in the privileged, ordered life they lead in Manhattan with their children, teenagers Andrew and Caroline and 6-year-old Charlie. But when Blake accepts a once-in-a-lifetime opportunity to become the CEO of a visionary social media start-up in San Francisco—and then buys a magnificent turn-of-the-20th-century Pacific Heights mansion on impulse—all that will change. Built by the Butterfields, a prominent banking family, abandoned for decades, the grand house retains its exquisite furnishings and aura of long ago elegance. And that's not all it retains. The modern Gregorys are about to meet their ghostly long ago counterparts….