Patchwork Family in the Outback by Soraya Lane is the third and final book in the Bellaroo Creek series. Each book is written by a different author and focuses on a small town in the Australian Outback that needs some help. I haven't read the other two books in the series. Patchwork Family in the Outback is centered around single Dad Harrison Black, who is skeptical of the new school teacher the town has hired, Poppy Carter. Since his wife left him and his two children, Harrison has been protective of his children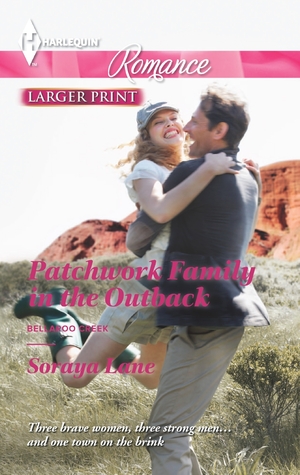 and who he allows into their lives. He's committed to always being there for his kids–even if it means leaving Bellaroo Creek and the land he loves if the school can't stay open. His first sight of Poppy, a city girl, doesn't inspire much confidence in her abilities to run the school for all the children from age 5 to 11.
"She was pretty, he'd give her that, but there was no way she was going to stick it out here as their teacher. He could tell just from looking at her."
Poppy Carter has had some hardships of her own. After a rough few months, the job as school teacher in Bellaroo Creek appears to be a godsend. Poppy loves teaching more than anything, and being in a rural community won't be as difficult to adjust to as the hard knocks she's taken recently. What definitely doesn't figure into her plans is falling for a man.
"She was here to teach and to find herself. To forget her past as best she could and create a new life for herself. Alone."
Can these two battle weary people find love and a complete family together?
I didn't love Patchwork Family in the Outback as much as I thought I would. I really like Poppy's character and I wanted her to find love, but I didn't feel as strongly about Harrison's character. I liked Harrison and Poppy together, but there wasn't much to the story outside of them. In a story that is set around trying to save the town's school, I expected to see strong supporting characters and feel a sense of community, but I didn't feel I don't know if this was because Ms. Lane was writing as part of a series with other authors and didn't want to introduce characters from the other works for some reason, but the dearth of other characters bothered me. The story felt a little closed off and claustrophobic, and not in a good way.
That being said, I still think that Patchwork Family in the Outback is a good read. Poppy is such a spirited character who's had so much heartache that you can't help but root for her. Ms. Lane does a great job of not making Poppy into a helpless victim despite her backstory. I just expected more. I would recommend this book to anyone looking for a quick read with an engaging heroine and emotionally wounded hero set in the Outback.
Book Info:

Published September 3rd 2013 by Harlequin Romance (Book 4393)
The final piece of his family puzzle?
Arriving in Bellaroo Creek, teacher Poppy Carter isn't quite prepared for the hard task ahead of her. But a school under threat and a class of unruly children is a breeze compared to single father Harrison Black, who's proving more of a challenge than she could ever have anticipated!
Since his wife abandoned him and their children, Harrison has learned the art of keeping his distance–and new teacher Poppy doesn't seem to understand boundaries! But when a storm traps them both together, Harrison begins to wonder whether Poppy just might make the perfect addition to their little family….