Penniless & Secretly Pregnant s an October 2020 Harlequin Presents release. Jennie Lucus has delivered a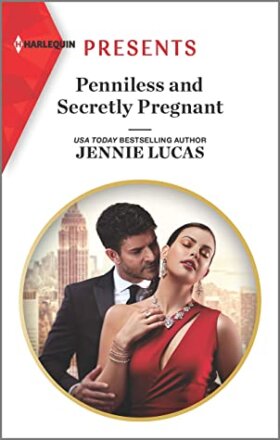 magnetic, expressive, layered and fast paced story which I thoroughly enjoyed. What made this story different for me was billionaire businessman Leo's open character, his point of view was shared often and helped with the layers of the plot. He was the perfectly tortured hero but he knew from page 1 how much Daisy meant to him.
I couldn't put this story down because I loved quick paced action, emotion, Leo's backstory and the main reason that brought Leo crashing into Daisy's small world. Daisy is a breath of fresh air, she's quite delightful and she and her puppy make a great team. Jennie Lucus did an incredible job evoking emotion and angst. With the death of Daisy's father and the discovery of Leo's real identity causing brilliant tension, along with the mix of Leo's history, I felt swept away and totally caught up in all the drama.
There's so much greatness packed into Penniless and Secretly Pregnant, it delivers on all the requirements of a Presents, angst, emotion, drama, passion, mystery, unimaginable wealth and I was fully invested in Leo and Daisy's story, I love the painting mystery, the small glimpse into the art world and the way everything was resolved and I really enjoyed the secondary characters and even Daisy's overuse of the word "perfect" grew on me and I understood the point behind it.
Absolutely loved and highly recommended.
Book Info:

Publication: October 2020 | Harlequin Presents |
He betrayed her family…
…and now she's having his baby!
New York waitress Daisy is heartbroken to learn the man she's found unimaginable pleasure with is Leonidas Niarxos. He's the billionaire she holds responsible for her father's death. Betrayed, she flees without telling him the truth she's just discovered—that she's pregnant!
Five months later, Leonidas discovers Daisy's baby bombshell. His heir will want for nothing, and that means marriage vows! Daisy may be penniless but she's not a pushover. Leonidas must prove himself worthy before she says "I do"…