Penthouse Prince by Virginia Nelson: Do you like books about fake engagements and very rich men? If so, then this book is for you!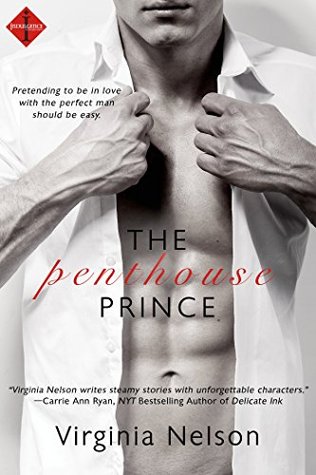 The story opens with an exciting first chapter that introduces the two main characters, call center representative Jeanie Long, and CEO Camden James. Jeanie happens to be in the right place at the right time, and is offered the role of a lifetime, Camden's fake fiance. It all happens extremely fast and before you know it, Camden has put together a contract that outlines their new relationship. Even though Jeanie is very hesitant, she knows this temporary position will provide her and her daughter with a nice financial cushion. Camden is completely ecstatic that he thought of such an ingenious plan. Shredding his playboy image will prove to his father once and for all that he is mature enough to own the majority of shares in their company.
Jeanie is a single mom struggling to make ends meet. Never did she dream that she would one day be living in a Penthouse, attempting to live the life of luxury. She is down to earth and at first has some difficulty socializing with the richest of the rich. She slowly begins to feel more than just a unique friendship with Camden. She likes who she is when she is around him and he is wonderful with her daughter.
Camden does not believe in love. His former fiance in addition to his father, have shown him that love only hurts and causes tremendous emotional pain. Little by little Jeanie breaks down his barriers, and he begins to realize that loving someone can be wonderful.
Penthouse Prince is a fun, hot, passionate, and touching contemporary romance. It is complete with desire, well-defined characters and an engaging storyline. I enjoyed this book and found Jeanie and Camden to be wonderfully perfect for each other. Their passion was amazingly hot and sweet, due to Ms. Nelson's creative way of developing chemistry and heat in the bedroom. This is a nicely paced, well-written engagement of convenience romance that will keep you entertained from beginning to end.

Book Info:

Publication: February 9th 2015 by Entangled: Indulgence
Single mom Jeanie Long was trying to save her butt at work by reporting her manager to the company owner. Instead, she finds herself greeted warmly by gorgeous company CEO Camden James…and introduced to his father as his fiancée. Now she's been hired—complete with a hefty pay raise—to be the fake fiancée of the infamous "Penthouse Prince."
Camden doesn't believe in love. He believes in mutually beneficial business arrangements. With his real fiancée off cheating on him, Camden needs someone to help him prove to his father that he's definitely ready to marry. Yet Jeanie's combination of beauty and bluntness act like an aphrodisiac, and their "for the press" kisses look incredibly real. So real that Jeanie and Camden are either really convincing actors…or they've fallen for their own charade.