In Firelight at Mustang Ridge (Mustang Ridge #4) by Jesse Hayworth, Jessica takes us back to the ranch and all the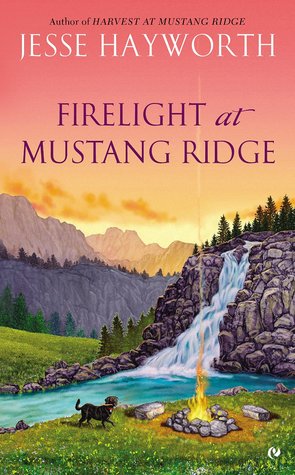 people there. After a traumatic experience with lasting effects, overwhelming parents and their expectations, and an ex who moved on quickly, Danny is there to find peace and heal in her own time and space. She doesn't want to lean on anyone, she wants to find direction on her own. Her campsite in Blessing Valley looks like it will be the perfect place to do that. There she can be on her own and do what she wants, but still find company at the ranch when she wants it.
Sam is the local boy who made it big. But none of that mattered after he lost his father, and Sam is haunted by the past. He doesn't do relationships and ends things with anyone who starts to get too close. When he meets Danny in her little piece of heaven, there is a definite attraction for both of them. And since he lives close by and is good friends with some of the people from the ranch, Sam and Danny are sure to meet again.
Neither is sure what they want, Danny isn't even sure where she will end up. But the magnetism between them is strong and they slowly forge a bond that could lead to so much more. But the push and pull between them, the insecurities and the pasts they are both struggling to move on from might prove too much for a new relationship. Or will they both discover it's ok to lean on someone as they both come to terms with who they are today?
Firelight at Mustang Ranch is full of rich characters who bring a lot of realism to the story. It will be easier to keep all the characters straight and understand the dynamics between them if you've read the other books in this series first.
The main characters, Danny and Sam, are struggling so much with their own issues that it was interesting to see how Jessica played this out, whether the issues brought them together or pushed them apart. Danny is so determined to do everything on her own with no help, that she pushes hard against Sam. Sam is so determined that he will never have a permanent, lasting relationship that he when things start to become more serious, he pushes against Danny. I never really understood why Sam was so set against relationships, because there were so many examples of great ones in his life and around him. I liked how these two were together though. They were open and honest, no matter how much it might hurt, and they didn't play games. They are both strong characters, and I liked how Danny stood up for herself, even to her parents, and didn't let anyone run her life. She was doing what she needed to do to feel whole again. I saw a lot of character growth through out Firelight at Mustang Ridge for both Sam and Danny. There is a lot of potential for them, if only they would take strength from each other.
As I said, there are a lot of secondary characters in Firelight at Mustang Ridge, most of whom we have met in previous books in this series. It was great to see where they were today and how they all fit together. I liked all the dynamics explored in Firelight at Mustang Ridge, from the family dynamics, to the guests, and the main characters.
I absolutely love the setting of Firelight at Mustang Ridge, and Jessica's descriptivism made things very easy to visualize, making me wish I could go there. Especially to Blessing Valley with the mustangs.
I'd recommend Firelight at Mustang Ridge to any contemporary romance reader, especially if you've enjoyed the other books in Jessica's Mustang Ridge series.
Book Info:

Published February 3rd 2015 by Signet | (Mustang Ridge #4)
In the latest Mustang Ridge novel, sometimes a little change is exactly what a person needs….
Ever since striking it big on a gemstone claim in the Wyoming mountains, Sam Babcock has known luck is on his side—except when it comes to the people he loves. When he forms a surprising connection with an alluring newcomer staying at his friend Wyatt's ranch, Sam starts to question everything he thought he knew….
Needing time and space to heal, former daredevil Danny Traveler is camping out in a valley beyond Mustang Ridge Dude Ranch. She wants to take care of herself for once—and a sexy cowboy might be just the distraction she needs. But when Danny discovers there's much more to Sam than meets the eye, she begins to long for more than a casual fling. Can she convince the confirmed bachelor that it's worth changing his ways for a chance at long-term happiness?