Perfect Paige (The Piper Sisters #1) by Inés Saint is a book full of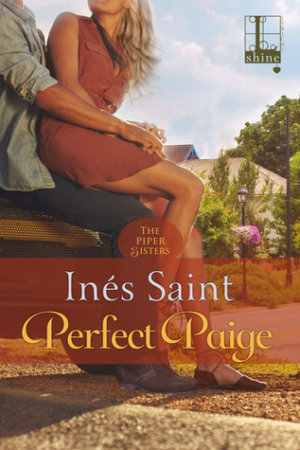 suspense, humor and finding love. It was a good story line, but for me at times, I had a hard time following along with the characters. This is the first book in the Piper Sisters series, and I do look forward to seeing what happens with Gracie and Hope, the other two sisters. The book is all about Paige and Alex.
Paige Galloway only wanted to have a home, a family and a normal life. Her childhood was anything but, so to give that to her children is a bonus. But it all comes crashing down on her when her husband is accused of stealing research from a famous researcher, add to that that he is a cheater, lying snake and wants a divorce, and it pretty much sums up anything but normal for Paige. To make matters worse, her nosy family has moved that agent responsible for hand cuffing her in front of the neighbors into the apartment across the hall. One very handsome and totally off limits Agent Alex Hooke.
Alex Hooke only wants to find the journal and clear Paige of any wrong doing, but he needs her to cooperate with him. Thinking that he knows all about "Perfect Paige" with her expensive cloths, her expensive cars, and her high and mighty attitude, he could not be farther from the truth. As he begins to dig deeper, as he and Paige begin to open up and be honest with each other instead of playing games, he begins to see Paige for the person that she is, the bright, intelligent, slightly bruised, but never beaten women that will do anything to protect her children, give them a stable home.
But as time starts running out, will Alex and Paige be able to find the journal in time, before the case blows up in their face, and destroys their chance at a HEA in the process.
I loved the talks and the interactions with Alex and Paige. When they got real and honest with each other, that is when you could really see how perfect that they were for each other. Paige's family and Alex's Grandmother and Great Aunt add a laugh out loud element to the story, especially when the two sides begin hurling insults at each other, and the tarot card session made my sides hurt.
I thought that the characters were well developed, and the story line was a good one, although at times I got confused about what was happening to who. I do look forward to seeing what happens with the other members of this mixed up family.
Book Info:

Publication: Published November 8th 2016 | Lyrical Shine | The Piper Sisters #1
When three sisters arrive in Spinning Hills, Ohio, home of the third most haunted street in the state, they're looking for solace and support as they clear out the ghosts of their own pasts. But what they find is something a whole lot sweeter . . .
Paige Galloway has built her life around one principle—being the perfect mom. When the FBI busts into the PTA meeting Paige is about to host in order to arrest her husband, she's mortified. Fleeing to Spinning Hills, her grandmother's hometown, Paige is determined reclaim her title as the mom with the most. That becomes much harder when her husband files for divorce . . . and she learns he's a lying cheater. Being the perfect mom now means she has to save her ex-husband from himself. But when the agent in charge of the investigation—the man who witnessed her total humiliation—moves in next door, Paige is surprised to find herself drawn to the Fed with the suspicious frown and surprisingly sexy smile . . .
After Alex Hooke's tough-as-nails childhood, Paige's way of life seems shallow—at least until he gets to know her. Paige is as stubborn and smart as he is, and while his job is to find evidence against her ex-husband, he's more tempted to investigate the attraction simmering between them. With help from Paige's nosy family, and his own curious relatives, Alex may still get his man—but what he really wants is the woman who introduced him to love.