In Personal Target (Elite Ops #2) by Kay Thomas, Nick left his dangerous job in the CIA to work privately for AEGIS – a private company that is proving to be just as dangerous to not only Nick, but his family too. Someone wants payback for actions they think Nick is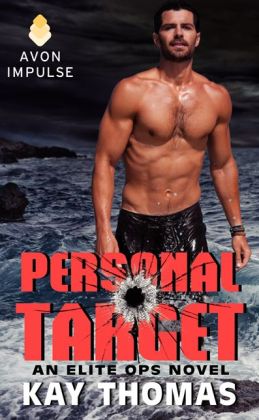 responsible for.
Jenny is friends with Nick's sister. She also had a brief relationship with Nick years ago, but when Nick left for the Navy, Jenny mysteriously stopped contact with him. He's never understood why. But when Jenny is mistaken for Nick's sister and kidnapped by his enemies, he will do anything to save her.
There is more at stake than either of them realizes though, and even after Nick rescues Jenny, danger still chases them. As the danger closes in on them, following them where ever they are, the long buried feelings they have for each other start coming back to life, and the chemistry is hotter than ever between them. But the secrets Jenny keeps from Nick might be too much for him to get over, the additional hurt making him unsure if he wants to risk his heart again. As Nick fights to keep them safe and end the threats, they will also need to decide if an old flame can be reignited and burn stronger the second time around.
Personal Target is a fast paced, action packed book with a lot going on in it. It is not an easy book to pick up and put down again, the plot is focused and intense.
Jenny was not the easiest character to feel close to between her complete disregard for her safety to her secrets. I felt a little lost at times when I was trying to understand her character. Nick was easier to relate to, from his feelings to his actions, he was open and honest. I could really feel his hurt and bewilderment towards Jenny and their past, and I liked how he worked through this. I like how Kay slowly unraveled the mystery of the past between Nick and Jenny, at the same time as she built their characters. They have a second chance at romance in Personal Target, even if their relationship didn't have as much strength as the suspenseful plot.
There are a lot of secondary characters in Personal Target, and many of them are from the dark side that Nick is trying to protect them from. At times they were all a little overwhelming and difficult to keep track of, but they worked well with the plot and kept Personal Target suspenseful. Kay keeps you guessing about what's really happening all the way through to the conclusion. Kay brings the pieces together of Personal Target very intricately.
I'd recommend Personal Target to romantic suspense readers who like a lot of action, plot twists and turns, and a couple with a second chance to be together.
Book Info:

Published July 29th 2014 by Avon Impulse | (Elite Ops #2)
AEGIS: an elite team of ex-military men working under the radar of most governments. If you have a problem no one else can handle, they can help.
A former SEAL and Black Ops specialist who left the CIA, Nick Donovan gave up a life on the edge to work in the private sector. But that didn't stop his enemies from coming after him—or his family. In a case of mistaken identity, a drug cartel kidnaps his sister-in-law's best friend … a woman from Nick's past.
One minute Jennifer Grayson is housesitting and the next she's abducted to a foreign brothel. Jennifer is planning her escape when her first "customer" arrives. Nick, the man who broke her heart years ago, has come to her rescue. Now, as they race for their lives, passion for each other reignites and old secrets resurface. Can Nick keep the woman he loves safe against an enemy with a personal vendetta?