In Since You've Been Gone by Anouska Knight, In the two long years since Holly Jefferson's husband passed away, she's mainly focused on making her bake shop Cake a success, but has taken little time for a social life. Not that her loving, albeit pushy, sister Martha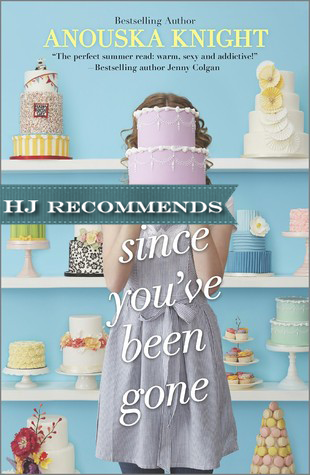 hasn't tried to help. Holly just can't seem to get past the dreams of her sweetheart Charlie and the life they once led together.
"Don't be a fool, girl. Don't be afraid of an unexpected joy. Don't find yourself grieving for an opportunity wasted, because no matter how much you love the ghosts, they don't keep you warm."
A chance encounter when Holly delivers a specially ordered cake leads her to Ciaran Argyll's home. She feels an attraction to him but can't imagine even trying to begin dating again. She finds out the chemistry is mutual when Ciaran finds ways to see her, and against her better judgement, she lets him talk her into spending time together. Holly fears they are simply too different to ever get along, as they come from such different worlds: him from wealth and her from a working class family. But love knows no bounds and as their feelings develop for each other, Holly might just let herself be talked into giving their relationship a chance.
'A yearning, gone neglected for so long now, raised its head. I wanted him. I did. And as soon as I thought it, the levee broke, leaving me to drown in the crushing force of my need for him.'
Since You've Been Gone was quite an emotional journey as we followed Holly through her grief over losing her beloved husband, and as she slowly made her way back into the world again.
Not all of the content is heartbreaking and dark, although there were some very poignant moments as Holly dealt with her loss. Thankfully, there were a lot of fun, sometimes even silly, moments with her friend Jesse, her sister and brother-in-law, and of course with Ciaran. This made a nice balance to the story, keeping it from being overly heavy. One of the characters that surprised me was Fergal, Ciaran's eccentric father. He seemed like a bawdy guy who lived to have fun drinking with the fellas. But as Holly spent more time around Fergal, the truth of what he had been through came to light and they ended up having some truly lovely, heartfelt moments. Plus, the scene where Holly and Fergal first met (involving his kilt) was absolutely hysterical!
I thought Holly's struggle to move on after her devastating loss was very realistic and it was certainly easy to empathize with her. Her dreams/nightmares specifically were rather heartwrenching and I'm very glad she did have family and a few friends who tried to be there for her. I can't imagine how difficult it must have been for her to contemplate a new relationship with Ciaran, even though it had been a couple of years since losing her husband. The emotions she went through were understandable, and I loved that Ciaran was patient, letting her work through things, even discussing Charlie and their life before he passed on. Ciaran had his own demons from the past he had to face but he still was a thoughtful, tender, and yes, sexy guy who was very good for Holly.
If you enjoy Chick Lit that makes you think and feel a wide range of emotions, definitely give Since You've Been Gone a try.
Book Info:

Publication: July 29th 2014 by Harlequin HQN
How do you learn to love again?
In one tragic moment, Holly Jefferson s life as she knows it changes for ever. Now to the external world, at least she s finally getting back on her feet, running her business, Cake. Then she meets Ciaran Argyll.
His rich and charmed life feels a million miles from her own. However, there s more to Ciaran than the superficial world that surrounds him, and he too is wrestling with his own ghosts. Will Holly find the missing ingredient that allows her to live again and embrace an unknown and unexpected tomorrow