Playing Hurt by Kelly Jamieson is the latest story in her Aces Hockey series, following a group of hockey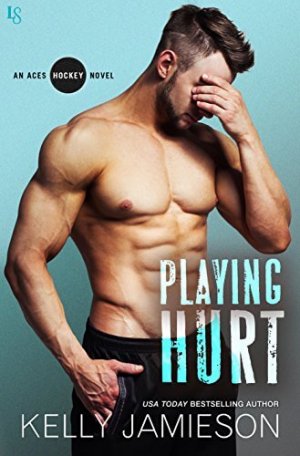 players through sometimes challenging, sometimes fun and always sexy stories of life and love on and off the rink. This entry has a 25 year old player who has a nagging injury that could derail his career paired with a star singer experiencing the same.
Chase Hartman has been struggling to score goals. While it's not uncommon for a hockey player to go through a slump, for Chase it's more worrisome because while a broken thumb has healed, his wrist keeps giving him trouble at unexpected times causing him to be hesitant on the ice. The resulting bad publicity from not performing to his potential adds to the stress. The one bright spot is his fun and flirty twitter 'relationship' with pop star Jordyn Banks.
Jordyn is a huge hockey fan, and while the LA team the Condors is her current favorite since she lives there, the Aces have a special place in her heart since she grew up in Chicago where her parents still live. Trash talking with Chase on twitter leads to a date that is fun, but one she doesn't expect to go anywhere. But then Jordyn experiences her own career hardship, when her overworked vocal cords force her to take a break. With recovery on her mind, returning home to Chicago means she can also open up to a real friendship with Chase. Things start to get heated between them as neither can deny their chemistry. But with their careers and futures in question, is a long term relationship possible?
I really enjoyed this story! It feels more like a new adult romance compared with others in the series, mostly because Chase and Jordyn are at early stages in their career, and in their early twenties. Sometimes this means not always making the best decisions and having to learn from their mistakes.
Chase grew up in an emotionally abusive home, though he doesn't really acknowledge that until he has to explain to Jordyn what it was like to grow up in a home where how he did playing hockey determined the love and affection shown to him by his parents. Even now, he feels that his self worth is dependent on how well his career is going – and it's currently not great. He's been keeping the extent of his injury hidden so as to not let down his team, but eventually realizes he's helping no-one by keeping it a secret. Figuring out that Jordyn will be there for him no matter where his career takes him is a hard lesson to learn, but one he eventually takes to heart.
Jordyn is a cheerful, fun character with all too human quirks (like losing her car keys, or her phone, repeatedly) that contrast with her professional image. When she too experiences difficulty due to injury, she is quick to address it (unlike Chase). She tries to be helpful, but sometimes oversteps in her eagerness to help make things right for others. Trust issues are less of a problem for her, though she has learned the hard way that her celebrity status brings out both the best and the worst in people. Having a partner who knows how to deal with the limelight definitely helps. Chase and Jordyn share some super sexy scenes together as they connect, on their way to a happy ending that doesn't come easily but is worth it in the end.
Like all of the author's hockey romances, there are on and off the ice scenes that ring with authenticity. As all hockey players go through times of 'playing hurt', distinguishing what can be pushed through, and what can't is key to a long term career, and something that Chase needs to learn. The other members of the Aces team have his back, and while they might tease him about his feelings for Jordyn, they know that injuries are no joke. The team has gone through good and bad times together and their friendships are solid and just as enjoyable as the romances are in the series. This romance works well as a standalone, but I also recommend the rest of the series and can't wait to hear what's in store for the Aces next!
Book Info:

Publication: July 17, 2018 | Loveswept | Aces Hockey #6
He's playing hurt. She's laying low. And they're both flirting with disaster.
Chase: The last thing I'd ever want to do is let my team down. After overcoming my bad-boy reputation, I was dominating on the ice. But things aren't going so well this season, and even my parents think I'm partying again. Now I'm really worried about my career. The only bright spot in my life is the Twitter flirtation I've struck up with pop princess Jordyn Banks. Turns out she's a huge hockey fan—and she's willing to wager a date on her favorite team. . . .
Jordyn: Even though I'm an L.A. fan now, I've always had a soft spot for the Aces, since I grew up in Chicago. Then I lose a bet to Chase Hartman, and suddenly I'm up close and personal with a pro athlete who's anything but soft. Not only is Chase the hottest guy I've ever met, he's secretly super sweet. As if I had time for a relationship . . . yeah, right. But when I suddenly have nothing but time on my hands, he's the only one who understands. Now, with both of our careers at stake, Chase is tempting me to put my heart on the line too.