Playing with Fire (Hot in Chicago #2) by Kate Meader: When it comes to writing HOT, SEXY Heros and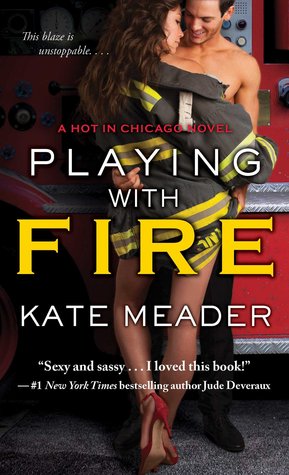 STRONG, INDEPENDENT women, no one does it better than Kate Meader. Her Hot in Chicago Fireman series is a scorcher and book 2 in this series was setting of some alarms let me tell you. This is Eli and Alexandra's story.
Alexandra Dempsey is the only girl in the family of Chicago Firefighter Royalty. A little hot headed, a little strong willed, and a whole lot of sassy. Alex is looking to prove her self as the only female firefighter at Engine Co. 6, to her over protective brother (all firefighters) and to the fair Mayor of Chicago, one Eli Cooper, who makes her hot and bothered just being in the same room.
Eli Cooper has had a thing for Alexandra since the moment that he layed eyes on her. He has protected her, laughed at her, been amused by her, and yes, he has it bad for her. When Alex saves Mayor Cooper from a fire, Eli sees this as the perfect opportunity to use the publicity and the interest the public has in he and Alex to try to boost his flagging re-election campaign. Getting Alex on board, not so easy.
When secrets about Eli's past come back to haunt him, and leave Alex feeling betrayed, it will take grand gestures on Eli's part to prove to the woman that he loves that he will do anything, even tank his own career to keep her in his life.
I love the banter between Eli and Alex. FOREPLAY! The humor and the bickering added another level to the chemistry that these two had. There sparks were electric and rivaled a 5 alarm fire. Eli refused to call her anything but Alexandra, proving to her that he say her as more than a firefighter, more than one of the guys, he saw her as a woman, his woman, a capable, sexy, independent woman that gets under his skin and sets him on fire with a look. Alex saw beneath the facade that Eli tried to portray to the world and say the hurt, scared, confused, little boy under all of that hot and sexy. Alex's family what a riot and I loved the interaction with her brothers and their girlfriends. I loved the way that they stood up for Alex and tried to protect her, and how she shot them down and put herself in the line of fire when it came to their reactions and judgments of Eli.
I have loved Kate Meader and her writing since the Hot in the Kitchen series, and I was so very happy to see that we got to visit some of the characters and places from that series (like the AWESOME restaurant that is DeLucas). I have loved the other books in the Hot in Chicago series and I look forward to more in the wonderful series!
Book Info:

Publication: September 29th 2015 | Pocket Books | Hot in Chicago #2
From popular romance author Kate Meader comes the second novel in Hot in Chicago, a brand-new, sizzling series that follows a group of firefighting foster siblings and their blazing hot love interests!
As the only female firefighter at Engine Co. 6, Alexandra Dempsey gets it from all sides: the male coworkers who think she can't do the job, the wives and girlfriends who see her as a threat to their firefighter men, and her overprotective foster brothers who want to shelter their baby sister at all costs. So when she single-handedly saves the life of Eli Cooper, Chicago's devastatingly handsome mayor, she assumes the respect she's longed for will finally come her way. But it seems Mr. Mayor has other ideas…
Eli Cooper's mayoral ratings are plummeting, his chances at reelection dead in the water. When a sexy, curvaceous firefighter gives him the kiss of life, she does more than bring him back to the land of the living—she also breathes vitality into his campaign. Riding the wave of their feel-good story might prop up Eli's flagging political fortunes, but the sizzling attraction between them can go nowhere; he's her boss, and there are rules that must be obeyed. But you know what they say about rules: they're made to be broken…