Pleasure Games by Daire St. Denis is a steamy vacation romance that takes place in France, when a woman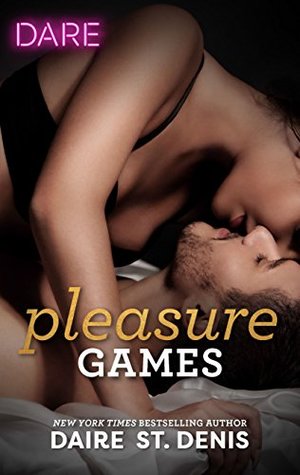 whose marriage plans go awry decides to take her honeymoon trip anyway and meets a man who shows her just what she's been missing.
Jasmine Sweet discovered her fiance was using her to disguise the fact that he was gay when she walked in on him and his best friend just before the wedding. Determined to enjoy the lavish honeymoon they'd planned she's decided to go to Paris on her own. A chance visit to an antique shop leads to a little more adventure than she'd expected when a robbery happens in the midst of her trying to pawn off her engagement ring for a little cash. It's interrupted by a handsome stranger and when Jasmine tries to rush after him before the police arrive, she ends up falling and hitting her head et voila! amnesia it is.
Luca Legrand has been caught in one scandal after another (including an infamous sex tape released by his wx-girlfriend). It's been doing a lot of damage to the family business, vineyards he's responsible for since his father died. He's vowed to keep clear of scandal, so when he interrupts the shop robbery and ends up with the woman knocked out at his feet, he does the only thing he can think of in the moment – takes her back to his flat. When she turns out to have a concussion, along with amnesia, he makes the decision to look after her while figuring out what to do to avoid ending up in the papers again. He also gives her a false last name, so that she doesn't know who he really is. When the paparazzi find out Luca is in town, they stake out his place leaving him with no option but to escape with Jasmine to a family home in the country. As they spend time together, the attraction between them turns into a steamy affair. Jasmine is slowly recovering her memory, and Luca realizes it's only a matter of time before the whole truth will come out, including his real identity. Will the relationship they've been developing under false pretenses be strong enough to handle the truth?
I really enjoy vacation romances, especially ones set in Europe so I loved the Parisian and French countryside setting of this romance. The plot here is an interesting one, though you have to suspend your disbelief a bit at how everything plays out. Luca is trying to be the good guy when he takes Jasmine home, but it's a little farfetched that he doesn't just drop her off at a police station. And naturally they are both attracted to each other and throw caution to the winds. Jasmine recovers most of her memory quickly except for what happened at the antique shop, so she knows who she is, and that she doesn't want to go back home to face her ex-fiance and her parents. It's no wonder a french fling sounds much more appealing!
There are several steamy sex scenes and Jasmine eventually figures out that Luca is richer than he'd originally appeared. For Luca, it's nice to have someone attracted to him not for his name and fortune, but just for himself. They share a lot of personal things about themselves as they connect, which draws them closer together. Of course, the truth eventually comes out (and scandal is never far behind as it turns out!) and both Jessica and Luca have to make some critical decisions for their future before they get their happy ending. It's an enjoyable and sexy read!

Book Info:

Publication: April 23, 2018 | Harlequin Dare |
A honeymoon for one…Pleasure for two! After catching her fiancé cheating, Jasmine Sweet is on her Parisian honeymoon alone. She's determined to have an adventure! But an altercation resulting in temporary amnesia is more the stuff of nightmares. Then she meets a gorgeous stranger, and her time in France becomes a tour de fantasy! Luca shows her desires she never thought to experience – until their sexy dalliances become more than just a game…