Pleasure in His Kiss by Pamela Yaye is a sensual opposites attract romance between a vivacious beauty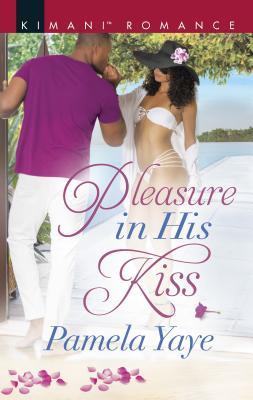 salon owner and a Judge with lofty career ambitions.
Karma Sullivan has worked hard to make her salon a place for A-list celebrities. Makeup and hair for the stars of stage, screen and high society are her forte along with her staff. She's hired Reagan, a seventeen year old high school student who has shown an aptitude for cosmetology. Unfortunately, Reagan's uncle and guardian is not pleased with this development.
Judge Morrison Drake has strict rules and the best of intentions for raising his niece, and expects her to go to college for an academic career, not one based on physical beauty. His attraction for her boss Karma is an afterthought, until he thinks of a way to use it to his advantage. If he can convince Karma to date him, maybe he can also get her to convince Reagan of where she should be focusing her career aspirations. When Karma's best friend Jazz jams out of her birthday plans, Morrison is happy to take her place, resulting in some passionate sexual encounters and the start of their real friendship. But will they be able to make that into something more?
Morrison is definitely an uptight fellow, but he has his reasons. Having lost his sister in a preventable tragedy, he will do everything he can to protect his niece from the same fate. As such, he is overprotective, worried about her if she doesn't check in, and determined to provide her with the best chances at a future. Those feelings do not coincide with a salon style career. And, he's a bit of a snob too, though Karma rightly makes him see it soon enough. Their sex scenes are pretty steamy, and they have a lot of fun together when they aren't at odds over his niece. Morrison's narrow minded and overbearing attitude regarding Reagan is the source of much of the conflict between them.
The second half of the story has a lot of drama involving family and friends. There are secrets that are revealed that could cause serious consequences for them both, on a personal and career level. Through the ups and downs, Karma and Morrison learn to put their faith in each other and get their eventual happy ending. It's an enjoyable read.

Book Info:

Publication: May 22, 2018 | Harlequin Kimani | Love in the Hamptons
They're living their most passionate dream…
But will her scandalous secret cost her his love?
Beauty blogger and owner of the Hamptons' hottest salon, Karma Sullivan has been swept off her feet by judge Morrison Drake. But she knows their passion-filled nights must end. She can't let her family secret derail Morrison's ambitious career plan. Even if it means giving up the man she loves…