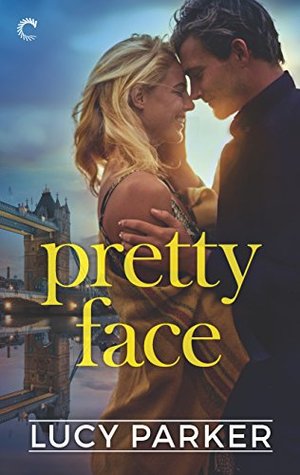 Pretty Face by Lucy Parker: When you find yourself laughing out loud, wiping away tears, and rereading passages you just read, you know that you've found a real gem among a sea of contemporary romances. Pretty Face by Lucy Parker is a witty and engaging look at the London theater world and a forbidden romance trope story involving acclaimed yet cynical theater owner and director Luc Savage and his new stage protege Lily Lamprey.
Lily's professional acting career may pay well, but her starring role as the sexpot in the historical television drama Knightsbridge has her typecast as a blonde bimbo. It's not helped that her voice, unflatteringly defined (by Luc) as belonging to 'helium barbie' gives credence to the theory. Lily would like nothing better than to break into a real acting role on stage, and when Luc Savage's new play 1553 needs an Elizabeth the first, being called for an audition is a thrill all on its own. Though Luc's hand has been forced by Lily's godfather whose money is partially bankrolling the theater, he has an eye for talent and can see that with some (okay, a lot) of voice training, Lily could actually pull off the role.
Lily doesn't think much of the insulting and condescending Luc Savage but for a chance to get some serious acting credits behind her name, she's willing to take his attitude and put in the hard work needed to make this role her own. She's also quick to stand up for herself, a fact that Luc grudgingly respects, as he also comes to realize that appearances can be deceiving. During a cast weekend retreat, their sparring banter leads to another kind of awareness – an unwelcome one for them both. While an affair between the forty year old director and a younger lead actress wouldn't do much to hurt Luc's already maligned reputation, it would be disastrous for Lily if people believed she only got the role by sleeping her way into it. Still, despite everything to the contrary, there is only so long they can pretend in private that they aren't attracted to each other. Warned by Luc's ex Margo, another of the starring actresses in the play, that Luc's devotion will always be to the theater first before any woman, Lily knows that she could be seeing a very sharp rise and fall to her career if she's not careful. Will falling in love with Luc be worth the risk?
This romance is in serious contention to be on my best of 2017 list! I thoroughly enjoyed every aspect of the story, from the engaging characters and witty banter to the description of what happens behind the scenes in television and on the stage. Luc may not be the most charming of men, but I love a grumpy hero who is willing to own up to his mistakes and he's going to have a pretty solid place on my book boyfriend shelf. He's hardworking, he's driven, and he speaks his mind. The renovation of the Queen Anne theater has been Luc's pet project and the re-opening of the theater with the production of 1553 could make or break him. He knows he's taking a risk by bringing on Lily, but it's a calculated one, with the hopes that her TV stardom will mean more ticket sales. And as he gets to know her, he falls head over heels for the woman who is so much more than just eye candy for his cynical soul.
Lily is delightful as a woman who is fully aware of what's said about her (to her face and behind her back) and is still determined to prove that she's a serious actress. The product of an affair between her father, a wealthy (and at the time already married) nightclub owner and her mother, a much younger Irish jazz singer, she knows what the gossips will make of any relationship between her and Luc .She must put all her efforts into making this role a success. She's young (mid 20s) but not naive. She's also passionate, friendly, smart and driven to succeed. Her relationship with her mother and father, neither of whom has been the best parent, means she's used to fending for herself. Trusting Luc is a challenge for her mind and her heart, but her body makes the leap for her. The sexual tension between them sizzles, and leads to some very sensual love scenes.
The plot moves along at a smooth pace as the story takes us through the weeks up to opening night. There are several secondary characters, family members of both Lily and Luc as well as other cast members who provide amusing scenes and serious emotional ones too. The laughter is definitely in full force for most of the story (a particular favorite scene for me is when Lucy meets her voice coach at Oxford) but be prepared with a few tissues in the second half. Choices are made and consequences result, leading to some rocky times for our hero and heroine. But they find their way to a heartfelt happy ending and you'll be left with a smile on your face and wanting to read more about this world the author has created – a testament to her skill in crafting a romance worthy of a standing ovation.

Book Info:

 Feb 20, 2017 | Carina Press | London Celebrities #2
Highly acclaimed, award-winning author of Act Like It Lucy Parker returns readers to the London stage with laugh-out-loud wit and plenty of drama
The play's the fling
It's not actress Lily Lamprey's fault that she's all curves and has the kind of voice that can fog up a camera lens. She wants to prove where her real talents lie—and that's not on a casting couch, thank you. When she hears esteemed director Luc Savage is renovating a legendary West End theater for a lofty new production, she knows it could be her chance—if only Luc wasn't so dictatorial, so bad-tempered and so incredibly sexy.
Luc Savage has respect, integrity and experience. He also has it bad for Lily. He'd be willing to dismiss it as a midlife crisis, but this exasperating, irresistible woman is actually a very talented actress. Unfortunately, their romance is not only raising questions about Lily's suddenly rising career, it's threatening Luc's professional reputation. The course of true love never did run smooth. But if they're not careful, it could bring down the curtain on both their careers…