Protecting What's His by Tessa Bailey
, Ginger Peet and her sister Willa are on the run after taking some cash thattechnically doesn't belong to them. They try to leave their troubled lives in Nashville behind them and find themselves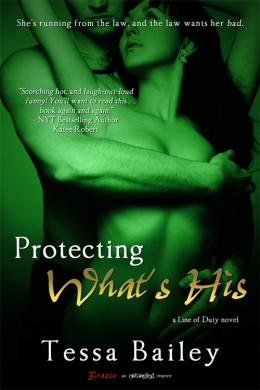 in Chicago. After finding a beautiful new apartment and getting Willa enrolled into her senior year at high school, Ginger thinks things are finally looking up. Then she has a shouting match with her sexy neighbor, homicide lieutenant Derek Tyler. This becomes a major complication due to how she left Nashville and her trust issues with the male persuasion in general. As Derek keeps appearing in her daily life, she finds herself wondering if she should finally let someone in.
The southern beauty that just moved in across the hall is a welcome distraction from Derek's career. He instantly feels a protectiveness towards her and her younger sister that he doesn't quite understand. Derek finds himself alone on the building's rooftop with Ginger and issues her a warning about his growing feelings towards her, leaving her the decision whether to pursue him or not. As he learns more about her harrowing childhood and subsequent escape from her mother's life, he has to decide if he should intervene to keep her safe or push her away.
I loved this story! Tessa Bailey has managed to combine humor, intense romance bordering on domination and suspense all in one place. I really enjoyed the balance of playfulness and protectiveness between Ginger and Derek, which is apparent in the following quote:
"Ginger always had a difficult time backing down from a challenge, especially when it was being issued by a man who wore a police uniform by day, but liked to talk dirty at night."
Their relationship is intense but still seems realistic. I liked the fact that even though Ginger and Willa were brought up in a less than upstanding home life, they were smart enough to know they could live a different way. I think both fans of romantic suspense as well as erotica will enjoy this story.
Rating: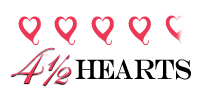 Book Info: Publisher: Entangled Publishing (Brazen) (February 23, 2013)
She's running from the law, and the law wants her bad.The opportunity was just too damn delicious for Ginger Peet to pass up. The purse full of money she finds—$50,000 to be exact—could give her and her teen sister the new start they need. So she grabs the cash, her gothy sibling, and their life-sized statue of Dolly Parton, and blows outta Nashville in a cloud of dust. Chicago, here we come…Turns out, Chicago has some pretty hot cops. Hot, intense, naughty-lookin' cops like Derek Tyler, who looks like he could eat a girl up and leave her begging for more. And more. Tempting as he is, getting involved with the sexy homicide lieutenant next door poses a teensy problem for a gal who's on the lam. But one thing is certain—Derek's onto her, and he wants more than just a taste.And as far as he's concerned, possession is nine-tenths of the law.