Down and Dirty by Christine Bell: A decade ago, while still in high school, Cat had and "almost thing" one night with Shane Decker. He put a stop to things before they got out of hand, after all he'd promised Cat's brother Galen he'd look out for Cat, and Cat has held the 'almost thing' and his perceived rejection of her against Shane ever since. Now Shane lives in California and Cat on the east coast. She's managed to avoid him quite well for the past decade, and hasn't seen him in 3 years.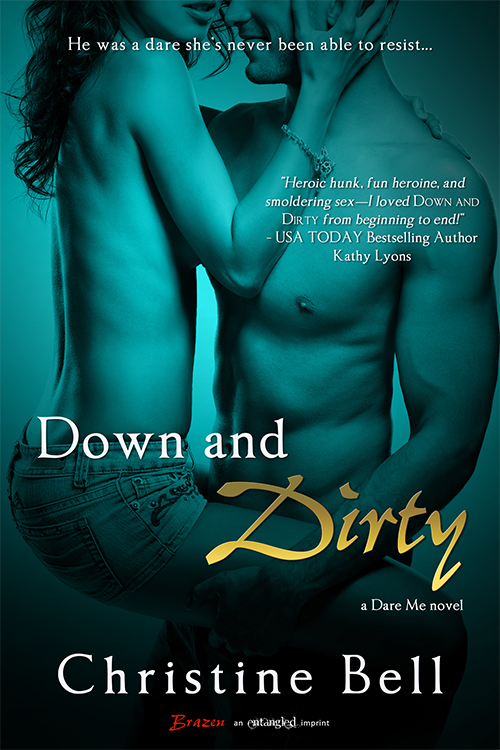 Now Shane is back – for a month if not longer. He has never forgotten Cat and he hopes that she's grown up in the 3 years since he's seen her and is ready for a real man. He want to be that man, he wants her more than ever! Cat however, bounces from relationship to relationship, with no relationship lasting for more than 3 months. Cat has decided that "…most relationships were far more trouble than they were worth." and she is sure she absolutely does not want a relationship with Shane. Her BFF Lacey (who is also engaged to Cat's brother Galen) accuses Cat of having "…this amazing night with Shane that never resolved itself, and since then, no one has measured up." Of course Cat denies this!
It all comes to a head when Shane and Cat have to share a hotel room in Atlantic City and Cat decides once and for all to get Shane out of her system! It is one HOT night though. Despite the connection they both felt, Cat wants to pretend that night never happened but Shane won't! He wants them together in a relationship. Cat is still against having a committed relationship with anyone, let alone Shane…she feels he's boring, not fun or exciting…but oh how he haunts her! Cat haunts Shane too… and he'll do whatever it takes to have her.
Things keep heating up between Shane and Cat, and Cat still refuses to acknowledge that she has feelings for Shane. She is still against relationships, she seems to feel that she will 'lose' herself if she becomes part of a relationship. Compromise to Cat is not an option. Will Shane persist or has he finally had enough?
Shane has the patience of a saint!!! I don't know why he still wants Cat and pursues her! I will take him! Cat certainly did not endear herself to me in Down and Dirty, I don't think she deserves Shane! She came across as a selfish, grudge holding young lady. She is so against committed relationships no matter what. She is under the impression that her mother gave up everything for her father (without ever having had this discussion with her mother or pausing to think that maybe her mother is happy) and she definitely does not want to be that kind of person! I was not clear why just this turned Cat against relationships so strongly. Having said that I think it's a sign of some great writing that Christine can make me feel so strongly about a character in her book!!
This book had great flow to it with charactes that are quite realistic. Christine also put a lot of humor in this book that had me laughing!!
Rating:
Book Info: Publisher: Entangled Publishing (Brazen) (February 23, 2013)
He was a dare she's never been able to resist…
Cat Thomas has never been the kind of girl to stick. A self-professed infatuation junky, she latches on the newest, hottest guy on the block, then finds a reason—real or imagined—to dump him. When she accepts a dare to rekindle her high school flame and jump in bed with her brother's best friend, Shane Decker, she knows she's in trouble. She can't resist the man, even after all these years apart, and that just won't do.
Shane has come back to town for a couple reasons. The biggest one? He's tired of living away from those he loves, including Cat. But now she's spooked and will do anything to drive a wedge between them, including trying to fix him up with other women through an online dating service.
What does he have to do to make her see that settling down doesn't mean settling, and he's ready to spend a lifetime proving it?