In Put Up Your Duke (Dukes Behaving Badly #2) by Megan Frampton, Nicholas has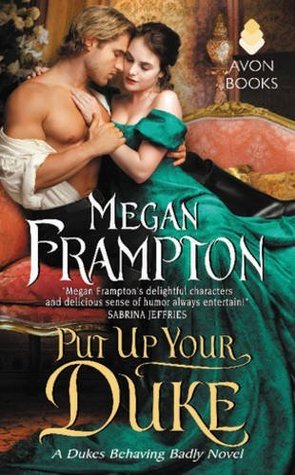 led a life of relative ease, with his most worrisome thoughts being whom he shall challenge in the boxing ring that day and which woman he will be bedding that evening. Inheriting a title was never a thought until the day he learns he will not only be the new Duke of Gage, but will also be marrying Lady Isabella. Nicholas is captivated by the beautiful, if not cool, woman from the start. But her inexperience has him at a loss. With some patience and lifestyle changes, he hopes to prove to his new wife that they can have a fulfilling relationship. Inside and outside of the bedroom.
'But some part of him, a part that he barely knew, recognized that rushing things with her would take their marriage on an irrevocable course, and he wanted a true marriage. A real marriage, one where there might, at least, be trust and friendship.'
Lady Isabella had thought after hearing the Duke of Gage lost his title that she would have some freedom for the first time in her life. The pressure to be the next perfect Duchess has been on her shoulders since she was very young. But now she is intended to marry a complete stranger, albeit a handsome one. With no idea what to expect, Isabella begins her married life with fears of how she will be treated, only to find Nicholas a consummate gentleman. As each day progresses and she begins to have feelings for her husband, she wonders if they might truly be a good match after all.
'Could he actually want her? Want the person inside the beautiful casing? She'd never imagined that anyone would actually want her, the woman underneath the facade that had been so carefully nurtured.'
Put Up Your Duke was a charming historical romance that paired two likeable characters who were as different as night and day. Their commonality? They were both pushed way outside of their comfort zone when they were forced to marry.
I really thought the premise behind this story was an interesting one. We have Nicholas who finds out he is inheriting a title when all he wants to do is get in the boxing ring, and entertain women. And then we have innocent Isabella who has been groomed to be a Duchess, now being married off to a complete stranger. The storyline itself was solid and each scene flowed nicely into the next, while the dialogue was witty and had a decided sense of humor about it, which I thoroughly enjoyed!
Isabella had me both commiserating with her and rolling my eyes a bit with regard to her naivety. I thought she did the best she could with what little info her mother provided about actual relationships between a husband and wife. She fell back on her training to be the perfect Duchess, and rightly so, when all else failed. However, there were times when her self-pitying thoughts about being 'too beautiful' and 'perfectly perfect' were a little much. I did completely understand Isabella wondering who she really was once she was given the option to think for herself for the first time. That had to have been both scary and wonderful at the same time, so it was a lot of fun to see how her confidence changed from there.
Author Megan Frampton easily had me laughing along with the inner monologues Nicholas carried on. I thought he turned out to be quite the gentleman (surprisingly) given his previous rakish ways. I loved that he tried to do the right thing for Isabella even though it wasn't the easiest thing for him, by giving her time to get comfortable with being in his presence before consummating the marriage. And Nicholas was honorable not only with his wife, but in his new title as Duke, striving his best for those who relied on him to look out for them. Even with his brother Griff, who was a great secondary character as well.
Entertaining and satisfying, Put Up Your Duke was a quick romance the definitely held my attention the entire way through.
Book Info:

 June 30th 2015 | by HarperCollins Publishers | Dukes Behaving Badly #2
He was once happily bedding and boxing, but in the newest Duke's Behaving Badly novel, Nicholas Smithfield has inherited a title and a bride . . .
To keep his estate afloat, the new Duke of Gage must honor an agreement to marry Lady Isabella Sawford. Stunningly beautiful, utterly tempting, she's also a bag of wedding night nerves, so Nicholas decides to wait to do his duty—even if it means heading to the boxing saloon every day to punch away his frustration.
Groomed her whole life to become the perfect duchess, Isabella longs for independence, a dream that is gone forever. As her husband, Nicholas can do whatever he likes—but, to Isabella's surprise, the notorious rake instead begins a gentle seduction that is melting every inch of her reserve, night by night . . .
To his utter shock, Nicholas discovers that no previous exploits were half as pleasurable as wooing his own wife. But has the realm's most disreputable duke found the one woman who can bring him to his knees— and leave him there?