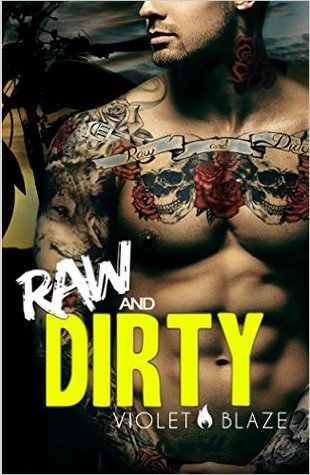 I love a good MC book, and Raw and Dirty (Bad Boys MC #1) by Violet Blaze has everything that a HOT MC book should have. It has sex, drugs, danger, and opposites that attract. This is the first in a new series and though there is no true cliffhanger, the ending of the story is very open ended leaving more to come in the lives of Royal and Lyric.
Lyric is the Deputy Mayor, the woman with something to prove to her father, the one that has big dreams and even bigger ambitions. Lyric has been tasked with getting the Alpha Wolves MC to sign on to work with the city and the mayor. What she does not anticipate is the feelings that the club president Royal McBride envolks within her.
Royal is a man that will do anything for his club, will lay down his life for his brother. He is out for a good time, and not looking to get tied down by any woman. But when the hot, sexy Lyric shows up looking for his cooperation, he is attracted to her like a magnet to metal filings. But Royal has problems, he had to take down his best friend and VP because he was betraying the club, in bed with the FBI. He needs to find out who the leak is, and prays that is is wrong about the connection between Lyric and the FBI agent.
But with people disappearing, a rival MC out for blood, and a confession from Lyric, Royal will need to decide to stick with Lyric or cut her loose. But when Lyric is put in danger, Royal knows that there is no other choice to but to ride to her rescue and pray that he makes it in time.
The connection between Royal and Lyric is instant and burns hot and wild. This book is not for faint of heart. This books has rough sex, danger, death, and a forbidden connection between an outlaw MC President and a Deputy Mayor. I really enjoyed this story and look forward to the next installment in the story of Royal and Lyric.
Book Info:

 Published February 1st 2016 | Sarian Royal | Bad Boys MC #1
RAW AND DIRTY (BOOK 1 of 3 in the BAD BOYS MC TRILOGY) – a full-length novel, no cliff hanger
Make nice with the President of the Alpha Wolves Motorcycle Club.
Yeah right.
It was what my job description called for—I just never realized exactly how nice I needed to be.
I certainly never expected to find myself twisted up and tangled in the raw, dirty world of an outlaw motorcycle club … or in the sexy, tattooed hands of the man in charge.
Royal McBride is a jerk—but a jerk with a swoon worthy accent, a big bike, and big … well, other things.
I didn't think falling in love with him would threaten my life. His life.
That we'd both risk losing everything we hold dear.
The mayor's daughter … an outlaw MC president.
It's a match made in heaven … a match tested in hell.