Ready to Run by Lauren Layne: Jordan couldn't wait to escape the small town where she grew up and pursue her career in NYC. She's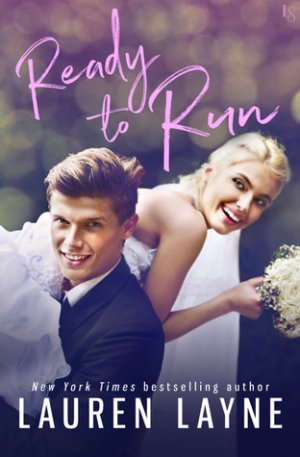 smart, successful, and keeps herself closed off. She knows the pain of losing loved ones, so she keeps even her closest friends at a distance. She's also pretty determined to get her man. Luke may be dodging all of her attempts to reach him, but she's about to find him in his own small-town and make him an offer (she hopes) he can't refuse.
Luke is a sexy firefighter with potential to be a highly sought-after eligible bachelor between his good looks and charm. He was always fun and full of life but after leaving bride #3 at the altar, he's changed. Luke is quite the gentleman as well, since he's never once left a bride at the altar and provided the real story behind his actions. He has no desire to turn his life, and town, upside-down to be on some reality show, no matter how much money is on the table.
Jordan has no problem finding Luke once she arrives, but she's surprised by the pull she feels toward him. Luke is surprised that Jordan bothered to track him down since his lack of response to her phone calls and emails should have been a response in itself. And it doesn't help that he's attracted to her either. They immediately strike up an antagonistic relationship to cover the attraction.
"So here's something I'm wondering…"
Luke reached across the bar, grabbed one of the no-fuss white square napkins. "Got a pen in your purse? Write your thoughts there."
"And then you'll read it?"
Luke stared straight ahead, sipped his beer. "Then I'll burn it."
Before long the antagonism turns to banter and an unexpectedly hot kiss. They challenge each other to see beyond the surface and to deal with their own baggage. Jordan is thrown for a loop to feel so much at home in another small town. Between the town and her growing feelings for man she's supposed to be recruiting, she's left confused about what to do.
"You have a small white cat named Luna and a big friendly golden retriever named Winston. You do understand why I at least have to try and recruit you, right? It's too much."
He merely pointed at the cat. "She barely lets me per her, even though I rescued the homeless wench from a fire."
Jordan went still. "Please tell me you're joking? You saved Luna from a fire? And then kept her?"
Ready to Run is entertaining with just enough drama, angst, and heat. Lauren Layne wrote great dialogue and interactions. Ms. Layne created a fun and interesting new world with a unique and engaging cast of characters. Fans of Sex in the Sticks by Sawyer Bennett and Jessica Lemmon will enjoy Ready to Run.
Book Info:

Publication:  August 22nd 2017 | Loveswept | I Do, I Don't #1
The Bachelor meets The Runaway Bride in this addictive romance novel about a reality TV producer falling for her would-be star: a Montana heartthrob who wants nothing to do with the show.
Jordan Carpenter thinks she's finally found the perfect candidate for Jilted, a new dating show about runaway grooms: Luke Elliott, a playboy firefighter who's left not one but three brides at the altar. The only problem? Luke refuses to answer Jordan's emails or return her calls. Which is how she ends up on a flight to Montana to recruit him in person. It's not Manhattan but at least the locals in Lucky Hollow seem friendly . . . except for Luke, who's more intense—and way hotter—than the slick womanizer Jordan expected.
Eager to put the past behind him, Luke has zero intention of following this gorgeous, fast-talking city girl back to New York. But before he can send her packing, Jordan's everywhere: at his favorite bar, the county fair, even his exes' book club. Annoyingly, everyone in Lucky Hollow seems to like her—and deep down, she's starting to grow on him too. But the more he fights her constant pestering, the more Luke finds himself wishing that Jordan would kick off her high heels and make herself comfortable in his arms.