Reckless Envy by Joss Wood is a sexy, second chance/enemies to lovers romance and the fifth book in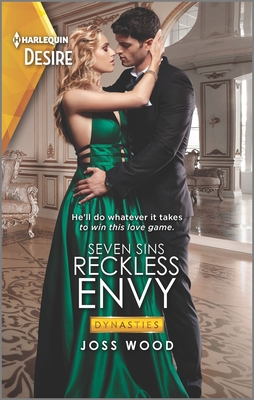 the Dynasties: Seven Sins series. The series revolves around the Black Crescent investment company whose founder, Vernon Lowell, scammed local families out of millions several years ago and the impact it's had on the people of Falling Brook.
Several years earlier, Emily Arnott had shyly approached Matt Velez at a country club and he had brushed her off, telling her she wasn't his type (then turned around and danced with a woman who looked a lot like her). Now she's engaged to an ex-colleague of Matt's – and he can't stand it. Little does Emily know that Matt has actually been very attracted to her for years but at the time she'd approached him had been well aware of his playboy reputation and her innocent one, and hadn't wanted to spoil hers. Now though, he's determined to figure out why she would marry someone as obnoxious as Nico. There must be something more there, and Matt is determined to find out what it is. But will Emily be willing to give him a second chance?
I enjoyed this sexy continuation to the Seven Sins series! The link to the Black Crescent company is two fold; Emily's father lost everything when Vernon Lowell stole their money and he's had to bring his own business up to scratch again. He's very protective of his reputation now, and Emily is protective of him so she's made some decisions that are for the best for that reputation, but not necessarily the best for her personally. As for Matt, he's vying for the CEO job at Black Crescent now that Joshua Lowell is stepping down (his story starts the series with Ruthless Pride by Naima Smone). In truth Matt doesn't care so much about whether he gets the job, he just wants to use the offer as leverage for his own current position. Ties to the town and the company are the link in the series and I enjoyed the plot here.
Emily finds that Matt is different than she thought when she lets him get close to her again, even though she knows that she should be careful around him. He has to make up for his previous acts. Emily's feeling for Matt deepen and they share some sexy love scenes, making it clear to Matt that her engagement is not as it seems. I liked how the plot progresses and how they resolve all the issues, leading to Matt and Emily getting their happy ending. I've been enjoying this series and look forward to the next one!

Book Info:

Publication: Sep 01, 2020 | Harlequin Desire | Dynasties: Seven Sins #5
Matt Velez has everything a man could want: money, success and his pick of gorgeous women. Well, almost everything. The affections of tantalizingly sexy good girl Emily Arnott remain strictly off-limits—because she's engaged to Matt's bitterest rival. Will jealousy consume him…or does Emily hold the secret key to set them both free?