In Brutus (Immortal Matchmakers, Inc. #6) by Mimi Jean Pamfiloff, The Immortal in charge of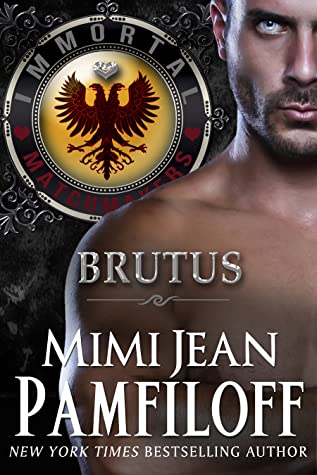 an army of men used to battle and strife, Brutus shouldn't be so affected by having lost his chance with Colel, the Goddess of Bees, when she chose Rhys as her mate. And he just can't help feeling like that was his one shot at love. So Brutus focuses on what he does best: leading his army and going on missions. His newest adventure is a solo mission to the rain forest to find a group of warrior women–be still his heart!–who may be potential mates for Immortals in danger of succumbing to the plague sweeping the globe.
"You have no idea how long I've waited for you."
"I thought we just met a few weeks ago."
He shook his head. "No, Fina. What I feel for you right now, I've been waiting to feel for hundreds of years."
But Brutus is in for the ride of his life when he comes face-to-face with Fina. A woman so beautiful and so fierce that he just has to make her his own. Although she has plenty to say about his intentions. The group of women she was raised with in the jungle have their own views on men and the world around them–something that comes into question when Fina realizes Brutus is a compassionate, strong man worthy of a second glance. But with the plague gathering strength and strange things happening all around them, it will take everyone's brain power and strength to get through it all…never mind the compromises that will have to be made for Fina and Brutus to have a future together.
"There will always be apocalypses and emergencies and missions and wars. And you will always be the man who runs to help, which I love about you. But when do *you* get to live your life? When will it be *your* turn?"
Brutus was one crazy, sexy, hilarious, thrill-a-minute ride that answered a few questions but left some strings undone in Mimi Jean Pamfiloff's highly entertaining Immortal Matchmakers series.
'He was a soldier, well-trained and disciplined. He was about structure and plans and winning battles. This situation was utter chaos. He controlled nothing.'
I *love* that we finally got to see Brutus find his HEA! I'm sure I'm not the only one who felt bad for him when Colel chose Rhys instead of Brutus in the previous book. It seemed like the Universe was thumbing its nose at him so it felt right that he would find someone to heal his broken heart. And boy didn't Fina do just that. Well, eventually. You just know MJP put Brutus and his mate through their paces. But we got to see, through every trial and tribulation, just how fantastic and dreamy a guy Brutus was. Loyal, courageous, kind but strong, he doted on loved ones and protected them fiercely–often at the risk of his own safety. In other words, he was a true hero.
Fina…she surprised me. I won't spoil the fun of learning about her background and that of her group's beliefs (Oh. My. Word. You will not guess it in a million years!) but suffice to say she was equally brave and heroic in her own way. Fina was a match on every level for Brutus. Plus they had an intense attraction that wowed me. As a team they were pretty formidable but it was interesting to see what sacrifices they were willing to make to not only keep each other safe–and keep their cuddly pets safe!–but to also try to stay together. Sigh…
As for the rest of the naughty Immortals and cast-mates we've come to love and laugh over, they were all either part of the mayhem or at least mentioned. Yes, even Cimil, Minky (that's another thing you'll never see coming!), Zac and Tula. And the cliffhanger set it up for one final novel or novella that promises to end the series with a bang.
With twists and turns galore and all kinds of wackiness going on, Brutus was an action-packed story that threw a great big old wrench in the works for our beloved Immortals and everyone close to them. But what fun it will be for fans of the series to read!

Book Info:

Publication: Published August 25th 2020 | Paper & Silver, Inc. | Immortal Matchmakers, Inc. #6
From New York Times Bestseller Mimi Jean Pamfiloff comes BRUTUS, a Paranormal Romantic Comedy that will surely cause evil vampires to kidnap the author.
CAN THE WORLD'S TOUGHEST IMMORTAL WARRIOR WIN THE HEART OF THE WORLD'S TOUGHEST IMMORTAL WOMAN?
Brutus is not your average immortal warrior. He leads the gods' army, he's tough as nails, and his mind is so powerful, he no longer speaks to communicate with his men. Some call him telepathic; he just calls it being a badass.
But despite the many bloody battles and hard-won victories, this is one mission he's not so sure about. There is a plague sweeping the immortal world. Gods, vampires, incubi—no one is safe, except for those with mates, and sadly, there just aren't enough women to go around.
To keep the gods' army intact, ready to protect the human world, Brutus must convince a group of ancient female warriors, located deep in the Amazon jungle, to return home with him, and…well…go on dates with his men.
But when the toughest, meanest, man-hating, sexiest woman of the group catches his eye, all he can think about is conquering her heart.
WARNING: This book contains a smokin' hot immortal warrior looking for his forever love, a randy invisible unicorn, and bad, bad, such bad language. Okay, and some sex. Fine, yes! Lots of sex! And a kitten, a bit of violence, a man who loves knitting, mannibalism, unruly deities, Mayan priests who babysit animals, a naked goddess who wears a bee bikini, leather pants (for men), a very randy ghost who's desperate for her HEA, anecdotes about evil mermen, a BIG plot twist even the author didn't see coming, and a ton of romancy kind of stuff.