Reckless Weekend by Eden Summers Alana was so sheltered and so innocent when she met Mitchell. She was a small town girl whose background wasn't pretty through no fault of her own. Then she met Mitchell, a rock legend and some how some way they ended up together. Now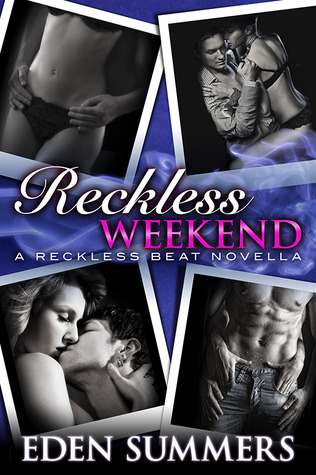 in less than a week they would be married. First they just had to survive a quick trip to Vegas, a lot of silly "games" with the groomsmen and the bridesmaids and a secret that may rip the family of friends apart.
Wow! Where to begin? Though the story tentatively circles around Alana and Mitchell it is so much more than that. It's about people who have created a family not by blood, but by true love and caring for one another. It's about being there when you are needed even when the person who needs you doesn't see it that way. It's about trust, about understanding and about the real true kind of love (with a little of the hot stuff mixed in there as well.)
Ms, Summers has taken us into the world of Reckless a rock band made of the kind of family everyone wants to be a part of. I look forward to where Reckless will take us next! Definitely something to pick up!
Book Info:

Publication: March 7th 2014
In Vegas, a lot can happen in twenty-four hours.
What do you get when you mix a rock band as hot as Reckless Beat, women strong enough to capture several of the bad boys' hearts, and a bet that sparks a competitive streak?
Boundaries will be pushed, alcohol will be abused, and loads of sarcasm will be shared.
Once the games are over, it's time to make a commitment. But love in the limelight is never easy. The past is trying to catch up with the present, and the pressure may be too hard to handle.
Seduction, torment, laughter, and heartbreak—one reckless weekend will test each member of the band and the women who've claimed their love.