In The Texas Wildcatter's Baby by Cathy Gillen Thacker, Ginger Rollins doesn't want any commitment after her failed marriage. But she keeps giving in to temptation, having a long series of one-night stands with Rand McCabe. On their last debate they took things all the way to bed again, only this time their one-night stand had consequences.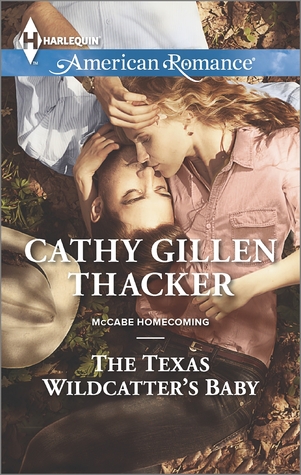 Rand wants Ginger, but he first has to find a way to make her commit to him. But after their last time together, as always Ginger has been avoiding him at all costs. So he is surprised when Ginger seeks him out.
The news that Ginger gives Rand is happy news. At first he is surprised, but here is his chance to finally spend more time with Ginger and show her that they can work together and be together. But first, to make sure that she won't run again he must convince her to marry him for the sake of their unborn child. And considering their work and that Ginger wants to make it on her own as an geological engineer she in a place where people are not always open minded, her best hope to get the biggest job is to not be a single mother.
But things are not going to be easy between Rand and Ginger. Ginger is very stubborn and set in her ways, and she certainly doesn't want anyone to tell her what to do. While Rand is very protective and wants to take care of her and their child. Not only that, Ginger wants to keep things very clear and make a post-nuptial agreement about how they will do every single thing in their marriage and she will not stop thinking that the marriage will only last until the baby is born.
Rand will have a hard time convincing Ginger to give them a true chance. And having her mother and his mother dropping in on them all the time while they try to keep her pregnancy secret will not be easy. Plus having Ginger and his mother trying to get the same job, and have him as the environmental person to judge which are the best proposals will only things more interesting and complicating. Add in her ex-husband to the mix and you know you have a fun and very entertaining read.
Honestly I really liked this story and had much fun reading it, even if Ginger and her extreme independence did annoy me sometimes. But I loved the chemistry between Rand and Ginger, and how Rand will do almost anything to keep her happy while trying to get his way.
If you want a fun and entertaining read, don't miss The Texas Wildcatter's Baby by Cathy Gillen Thacker.
Book Info:


March 4th 2014 by Harlequin American Romance Series #1489
Love Isn't Part of the Deal
Ginger Rollins can't believe she gave in to temptation—again! It's time for her and Rand McCabe to face the consequences. Never mind that the geological engineer and sexy environmental cowboy are on opposite sides when it comes to the Texas land they both love. Now that she's pregnant, they have one option.
Rand isn't used to being proposed to by a woman—especially one as gorgeous as Ginger—but he's all for getting married. Too bad the independent wildcatter sees their union as a nonnegotiable deal. Doesn't she know they share more than hot chemistry? How long can he keep his feelings—and their baby—a secret? Rand vowed to love and honor Ginger forever. And it's a promise he intends to keep….