In Recklessly Royal (Suddenly #2) by Nichole Chase, Princess Catherine D'Lynsal enjoys the majority of her royal duties, working with charities and the community. The only thing she feels she is severely lacking is a love life. She can only hope that one day she finds a love as strong as that of her brother Prince Alex and his fiancee Duchess Samantha, her close friend. But the only men chasing after Catherine are those hoping to gain something by being in a relationship with a princess. She wants someone to fall for her based on her personality and aspirations, not her royal bloodline.
'Most girls wanted a man who made them feel like a princess, but I wanted one who made me feel like a woman.'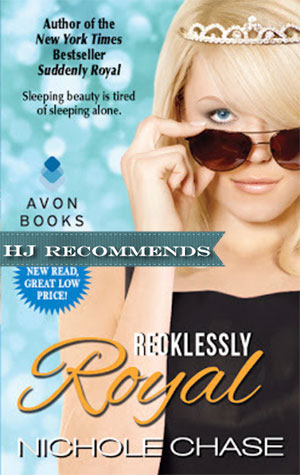 Catherine meets Samantha's friend and former colleague, Daniel, and makes quite the first impression. Let's just say alcohol was involved and she may have asked him to take his clothes off… Daniel is the first guy to be less than impressed about her title as princess, and more interested in who she is as a person. Catherine realizes she can put her trust in him without worrying, which is a luxury in her lifestyle, and soon hopes to give him her innocence as well. But will the paparazzi hounding her every time she leaves her estate push Daniel away? Or can they find a balance to make a relationship work between them?
"You know, I always thought I wanted a knight in shining armor." I broke away from his kiss and looked up at him with a smile. "But I like my dashing rogue much better."
"Angel, shiny armor just means the knight never went to battle." He kissed my temple. "And I fight dragons for you."
Recklessly Royal is the sweet second book in the Suddenly series by Nichole Chase. Catherine's story was every bit as charming and humorous as I expected (hoped) it would be.
This novel could be read independently from book one, Suddenly Royal, but there will be a few spoilers about Samantha and Alex's relationship as they are included a fair amount in book two. The writing style was still just as engaging, and filled with many comical yet touching moments as the princess comes of age. Catherine still has a lot to learn about relationships even though she has her part of being a royal down pat. It comes across very clearly in the dialogue and emotions author Nichole Chase gives us here.
I could sympathize easily with Catherine's struggle to find a balance in her own life between how she appears in the public eye, her "job", and who she really is when she's with her family and friends. Daniel steps in to help her find that perfect mix of princess and beautiful young woman, but not before causing a stir in the media. I seriously can't imagine being scrutinized on a daily basis like Catherine would. I thought she handled everything remarkably well considering she's barely in her twenties. The romance between herself and Daniel was tender and passionate at the same time…and definitely builds through the entire story. Don't give up while you're reading and waiting for them to finally get together. They do get their HEA. Maybe not as grand as Alex and Samantha's. But just as sweet and lovely.
I think fans of new adult style romance without too much angst will enjoy Recklessly Royal.
Book Info:

Publication: March 25th 2014 by Avon
Catherine has spent her life being the perfect princess. She's kept her hands clean, her head down, and most importantly—men at arm's length. After all, most men are after only one thing, and for Cathy there's a lot more at stake than her bed; she has to worry about the fate of an entire nation. But at the rate she's going, Cathy is afraid she'll give the Virgin Queen a run for her money. She is tired of waiting for someone good enough to come along. She has a plan, and it all hinges on seducing the one man who seems utterly unimpressed by all things royal. The one man she is tempted by more than any other . . .
When David arrives at the royal wedding of his friend, the newly ordained Duchess Samantha Rousseau, he expected to feel uncomfortable and out of his element, but he wasn't prepared to be targeted by Prince Alex's gorgeous younger sister. With Cathy's giant blue eyes, killer figure, and sense of humor, it won't take long before he gives in. But when he finds out just how innocent the crown princess really is, will he play the part of knight in shining armor or the dashing rogue?