Remembering That Night by Stephanie Doyle: Greg Chalmers used to be a psychologist with a high success rate until one mistake cost him everything. After hitting rock bottom, he joined the Tyler Group and began working as a human lie detector. With his background as both a psychologist and his ability to tell when someone is lying, the police decide to all him when they find a young woman covered in blood who says she has no memory of who she is or what happened. Even though Greg is skeptical, he sees no signs of deception in the young woman. He is drawn to her case–and to her–so he volunteers to keep an eye on her while the police work to figure out who she is.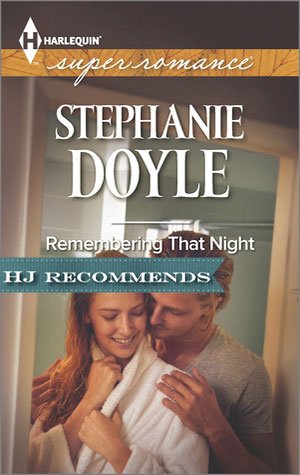 Once the police find out that there's been a murder in nearby Atlantic City, they find out the woman's identity. Eliza "Liza" Dunning was an accountant at the victim's casino. As the evidence mounts against Liza, Greg still believes in her innocence. He's not sure if attraction is throwing him off with regard to Liza, but he's more than sure that several others involved in her life are lying. He enlist the help of others with the Tyler Group to try and prove Liza's innocence and help piece together what happened before Liza is convicted of murder or killed by the real killer.
Remembering That Night by Stephanie Doyle had me swiping pages on my Kindle late into the night. I just had to know what happened. Who was behind the murder? Why did Liza lose her memory? When are they going to kiss already? The characterization of Liza and Greg was complex and interesting. There were many different layers to them. Even though Liza had lost her memory, she wouldn't allow herself to be treated like a victim. Even though Greg had sworn he wasn't going to try and be the hero or save people anymore, helping people is such a part of his nature that he can't help it despite the cynical façade he's erected. The plot has enough twists and turns to keep the reader hooked, and the parallel story of secondary characters Chuck and Elaine was a solid addition to the action as well.
The only thing I didn't like about Remembering That Night was just how often people getting their "crap" together or having a lot of crap was referenced (using a different four letter word). I'm not one of those prudes who thinks their shouldn't be a bad word in a romance novel, but I prefer that they be selectively used. Aside from that, it seemed a bit repetitive. It wasn't annoying enough for me to set the book down, but worth noting.
I would recommend Remembering That Night to anyone looking for a longer romance read full of mystery, sexual tension, and regret with a woman who can't remember her past and a man who wishes he could working together to ensure they can both have a future–together.
Book Info:

Published March 4th 2014 by Harlequin
Who's that girl?
Greg Chalmers knows when someone is lying. That's how he ends up helping the police with an unusual case. A woman is found covered in blood, claiming she has no memory. Is she lying? He doesn't think so. But for the first time, his attraction to her could be clouding his judgment!
Despite his intentions to stay aloof, he can't resist helping Eliza Dunning…especially when she becomes the prime suspect in a murder investigation. As they work together to uncover the details of her life, Greg finds himself in deep. And it's even more important to prove her innocence….