Reclaimed for His Royal Bed is a fantastic example of Maya Blake's talent shining through; digging deep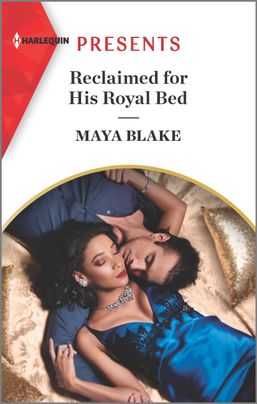 to pour out the emotion and brokenness a well written reunion story can deliver.
Ghosted more than a year ago by Delphie, King Lucca has the opportunity of a lifetime to hold Delphie almost to ransom when he purchases 90% of the shares of her racing team. Also on offer is an elite modelling opportunity which will dramatically increase her cash reserves. The catch is maintaining a fake relationship to the people of San Calliano for a month. Behind closed doors the demand to answer questions is simmering… why did Delphie leave Lucca and where did she disappear to?
Backed into a corner Delphie does what Delphie does best and holds her head high. With absolute grace she takes all that's thrown at her and throws it right back in spades at Lucca. What a strong and determined character Delphie is. I loved her humour and resolve. Lucca is the absolute alpha of alphas. What a fun King he must have been to write. It's Lucca's way or the highway. What he doesn't recognise is that his demand for answers come from a world of pain and a broken heart. Only he's too dumb to realise what his heart is feeling. Between the both of them Maya Blake absolutely goes for the heart and squeezes it slowly while delivering the most passionate and heart wrenching love story of two people who have a whole lot of healing to do together before they can become the team of a lifetime.
Against the backdrop of beautiful countries, exquisite diamonds and the most stunning cars, I enjoyed Maya Blake taking it back full circle. She hurtles the reader back into the exhilarating and highly stressful high octane race car world, where your next race is not guaranteed . The cut-throat industry is almost ready to churn up and spit out Delphie, former model and high profile ex girlfriend of King Lucca of San Calliano but she isn't going down without a fight!
Loved this story!
Book Info:

Publication: December 2021 | Harlequin Presents |
For over a year, King Lucca has been haunted by the disappearance of Delphine Alexander from his life and bed. Having tracked her down, he can finally lay his family's scandalous past to rest…if she agrees to his plan.
Delphie needs Lucca's help to save her car-racing team, but the cost is high. A month playing the golden couple for the cameras will see them hurtling toward an inevitable fiery clash—as she's set alight by his touch and comes closer to revealing the explosive reason why she left…