Reclaiming the Prince's Heart by Rebecca Winters: The Baldasseri family has owned a gold mine for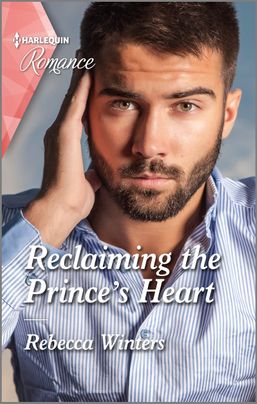 many generations. Currently Crown Prince Rini is in charge of it. The business is important to him, but he is even more focused on his wife, Luna. They have only been married six months and are still in their honeymoon phase.
Rini is supposed to be home from the mine in time for the delicious dinner Luna is preparing. As the time of his estimated arrival passes, Luna becomes more and more anxious. Finally, she gets word of what has happened and the news is devastating. There has been a collapse in part of the mine and the men in the area have been buried. Tragically, it's assumed that they are all dead and it's too dangerous to try to dig out the affected area.
Both Luna and Rini's grandparents, who raised him are consumed by grief. Once Luna gets past the initial shock, she decides she will personally visit the families of the other people killed in the disaster. When she visits an area further away from the mine, she is asked to translate for a man who has been brought into the local hospital speaking a different sort of language. Luna is stunned when that man turns out to be her husband. He miraculously got out of the mine and was found on a road nearby. What is even stranger is Rini has amnesia and doesn't recognize his beloved wife or remember what happened. Can Luna's love and patience help Rini to regain his memory?
You can't help but love Luna. She is so loving and kind. She and Rini knew each other were "the one" right from the start and romance lead to marriage very quickly. Luna was embraced by the prince's family.
Rini is a loving man. Even in working his way through amnesia he sees how lovely and kind Luna is and wants to do what is best for her. Of course, he's very smart and has been groomed to become the king and stay the head of the gold mine.
The flow and pacing of the plot is just perfect. The love story is different, but still very sweet and tender.
I have read other books by Rebecca Winters in the recent past and this one is just as charming and engaging. Since Reclaiming the Prince's Heart is the first in a trilogy, I look forward to the next two novels.
Book Info:

Publication: September 28, 2021 | Harlequin Romance | The Baldasseri Royals #1
Can the prince fall back in love…
…with his forgotten princess?
Luna can't believe it. Her husband, Prince Rini—the same man who had been reported dead after an earthquake—is alive…and standing right in front of her! Yet his return isn't the fairy-tale reunion that Luna always dreamed of. Why? Rini has amnesia and can't remember Luna—or their marriage! Will their still-powerful connection be strong enough to bring back the memory of their once-perfect love…?
A The Baldasseri Royals novel
The Baldasseri Royals trilogy
Book 1 – Reclaiming the Prince's Heart
And look out for the next books
Coming soon