In Red Clover Inn (Swift River Valley #7) by Carla Neggers, The English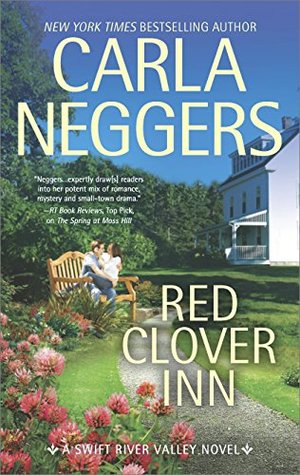 countryside is the perfect place for Charlotte Bennett's cousin Samantha's wedding–and for Charlotte to relax. She's been on the road for so long, going from one dive project to the next as a marine archaeologist that she's had little time for anything, let alone dating. So Charlotte jumps at the chance to go to Knights Bridge, Massachusetts, to kick back and house-sit for Sam and Justin while they honeymoon. But she never thought she'd be spending her time there with handsome yet slightly pesky Greg Rawlings, whom she met at the wedding. Their arrangement turns fortuitous when a romance begins to blossom between them, leaving Charlotte to wonder whether her future lies with Greg in the U.S. or back in her home base of Scotland.
'Their kiss was lingering, a hint of what could happen between them–a promise, not just a hope. Nothing about being in his arms felt like a mistake, an impulsive act she'd regret later…'
The past year has seen a lot of changes in Diplomatic Security Service Agent Greg's life, both personally and professionally. He might have healed physically after a work incident had him out of commission for a while, but he's exhausted mentally. So when his friend asked him to stay at the Red Clover Inn back in Knights Bridge, Greg couldn't wait. And finding out that spunky Charlotte would be there too? Icing on the cake. While they might not have gotten off to the best start when they met at Justin & Sam's wedding, Greg was attracted to Charlotte right away. And before long, he's looking for a way to keep her in his life on a more permanent basis.
'He was in Knights Bridge to relax, and he wouldn't relax if he kept noticing Charlotte's dark eyes and slender curves–or trying not to notice, not to think about all the possibilities. He also didn't want to cause friction or complicate her life, or his own life.'
A destination wedding, an awkward first meeting, and two people healing from recent troubling experiences, Red Clover Inn had depth of emotions both heartfelt and heartrending.
I've read several of the Swift River Valley books by Carla Neggers and was happy to see that she brought us back to this group of characters and beautiful little Knights Bridge, Massachusetts. And as always, the descriptions of the area and the seasons in the Northeast were on-point, take it from this native New Englander! But it was even more fun this time around as we were taken to the Cotswolds in England and even to Scotland for the romantic wedding and honeymoon of previous characters Samantha Bennett & Justin Sloan. (See book three, Cider Brook, for their story)
I have to say that I liked Charlotte and Greg overall but I didn't really feel a strong connection, that full spark of attraction between them until the last third or so of the book. Individually they were solid characters who were both at crossroads in their lives. Charlotte was recovering more emotionally than anything from a dive accident and I think it made her a bit more uptight than it felt like she normally would have been whenever Greg teased and tried to agitate her. And Greg himself was a standup guy taking on a new, less dangerous job, with hopes to spend more time with his teenage kids. Charlotte and Greg's relationship was definitely a slow burn and it morphed from antagonistic at the beginning to playful teasing toward the end, which I did enjoy. So that was the only reason this wasn't a 4 star romance for me. Other than that, it was great to catch up with the Sloans and Bennetts and see what was happening in Knights Bridge again.
I think fans of the series will like learning more about the Inn, figuring out a little mystery–courtesy of grandmother Evelyn Sloan–and spending more time with this dynamic bunch of people.

Book Info:

Publication: : March 28th 2017 | MIRA | Swift River Valley #7
New York Times bestselling author Carla Neggers delivers an irresistible story about love, family and finding a place to call home..
Marine archaeologist Charlotte Bennett is no stranger to risk, but her dives into sunken wreckage are always meticulously planned. However, being the maid of honor in her cousin Samantha's English wedding gives her a new perspective on her life as a nomad who's given up on romance altogether. Though an encounter with roguish wedding guest Greg Rawlings leaves her unsettled, the other people she meets make a trip to the tranquil town of Knights Bridge, Massachusetts, enticing. Acting on impulse, Charlotte offers to house-sit at Red Clover Inn while Sam and Justin Sloan are away on their honeymoon.
The quaint inn isn't open to the public yet and Charlotte will have quiet time to plan her next project. It might also give her a chance to see how her cousin found love and a sense of family. But the peace is immediately disrupted when Greg shows up at the inn. The Diplomatic Security Service agent lives a dangerous life, and he, too, wants to clear his head before his next assignment. Juggling work, raising his two teenage children and nursing a wounded heart has left him jaded, and the last thing he expects is to find himself falling for the willful Charlotte. As the attraction between them flares, Charlotte realizes she might be in too deep. And each of them must decide if they can put love first before it's too late.