Red Red Wine (Tastes of Seduction #2) by Jess Dee is a truly hot erotic romance. This is my first read from Ms. Dee and it certainly will not be the last. This story opens with a bang and just continues to entertain until the very last paragraph. Authors that can successfully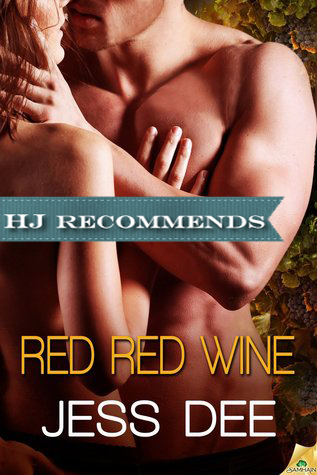 blend an interesting story with eroticism is a rare talent, and Ms. Dee presents this winning combination beautifully.
Multimillionaire businessman Andrew Stafford has a lot going on in his life. So much so that his best friend and business partner takes away all of his communication devices and sends him on a mini vacation. With great reluctance, Andrew concedes and ends up in the Australian wine country, which results in him falling in love for the very first time. Andrew is a very smart and handsome man that loves with all of his heart. Little did he know that the woman he met at check-in would turn his life upside down.
Special education teacher Tori Worthing is replete with pure happiness. It is the weekend of her wedding at the Rolling Hills, a lovely boutique hotel located in a lush vineyard. Unfortunately, a day before the wedding, she finds out that her fiancee does not want to get married and plans on breaking up with her. After she confronts him and their relationship ends, Tori finds a little solace by walking through the hotel's rose gardens and settling in for a good cry inside the gazebo. That is where she runs into Andrew for a second time. Their instant sexual chemistry evolves into a few amazing nights of amazing passion.
I especially loved the beginning of this book…guy meets girl, they innocently flirt a little, guy finds out that the girl is getting married and yet the guy cannot stop thinking about the girl. Such a lovely start to a relationship that most likely would never come to fruition. Andrew and Tori are scorching together and I felt their passion with each and every encounter. They are likeable both as individuals and as a couple. Overall, this is a well-written book with great characters and a solid plot.
Book Info:

Published August 5th 2014 by Samhain Publishing |  (Tastes of Seduction #2)
When Andrew Stafford's business partner banishes him from work with strict instructions to take a much-needed holiday, the offer of five days relaxing in wine country is too enticing to refuse. As is the woman he encounters the minute he arrives at the hotel.
She's everything Andrew's ever wanted in a partner, and meeting her should be the answer to all of his prayers. Except for one thing—she's strictly off limits.
Tori Worthing has never been happier. She's about to marry an amazing man, and her life is laid out perfectly before her—until her dream winery wedding becomes an unexpected nightmare. Her heart shattered, she turns to the one place she never expected to find comfort—a stranger's arms.
Tori and Andrew both know theirs is a rebound affair destined to end when the week is over. But when the time comes, letting her go proves to be the hardest step Andrew's ever had to take.