How to Bag a Billionaire by Nina Milne: Olivia needed to find Zeb Masterson, and the only way she could find was through his son, Adam. Crashing a fundraiser given by him at one of his hotels was the quickest way to do that, or so she thought. She wouldn't call her cat-burglary type entry a comedy of errors, but it was far from perfection. Then when she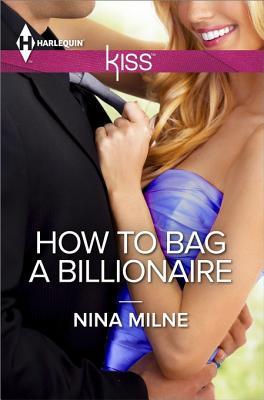 was apprehended by Adam Masterson himself, in the ladies room, with her zipper stuck and her dress falling off – well, let's just say it was not her finest moment.
When Adam saw the woman crawling through a window into a maintenance closet to get onto his property unseen, he found himself angry and intrigued all at once. His security chief wanted to grab her immediately, but he waved him off – so it was entirely his fault when Olivia got further than she should have. Also his fault? Deciding to stop her himself.
Adam assumed she was trying to nab him for his money, but going through him to find his father was perhaps an even more difficult task. He had a hard time believing her either way, but against his better judgement – he agreed to help Olivia, in exchange for her acting as his shield. A few appearances as his "girlfriend" to keep the Billionaire Huntresses at bay.
As Adam learned more about Olivia, he softened towards her – and also found a kindred spirit. It also made it that much more difficult to think about what would happen when they finally met up with Zeb in Thailand. Because no matter what else happened, the outcome would be the same – Zeb would never live up to the hopes that Olivia had for him. And that broke Adam's heart more than he thought it could.
This was such a bittersweet story – and as the characters learned about each other, it became more and more touching. I had a few frustrating moments though. I truly wanted Zeb to be even just *slightly* more sympathetic. I didn't expect him to be 100% all in, but man… kinda douchey. And I thought that Adam's mistrust of Olivia went on slightly too long.
However, I felt a connection to the characters – and they resonated as real. A lovely read, and a very nice HQ debut for Ms. Milne.
Book Info:

Published August 1st 2014 by Harlequin KISS
Another "billionaire bagger" caught climbing through the restroom window!
Except Olivia Evans has no interest in billionaires–even those as delicious as Adam Masterson. She just wants to track down Adam's father…and if crashing a superswanky party is the way to do it, so be it!
Only, she's caught red-handed by Adam himself! And now that Adam has become the subject of a "billionaire hunt" he has a proposition for Olivia. He'll help Olivia in her quest–but only if she poses as his adoring girlfriend for the paps. It's a deal she can't refuse…even if it does come with a luxury trip to Thailand and a whole heap of trouble!