Redeeming Her Brooding Surgeon by Sue MacKay: Stuck at sea for 12 weeks with no one you know? Seeing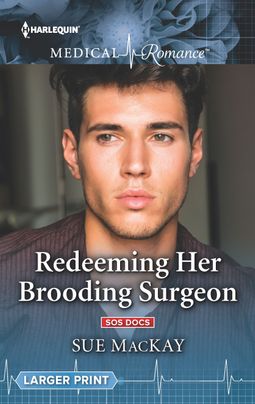 patients all day every day that just break your heart? Good way to bond? Maybe, but somewhere you feel needed? Definitely.
Kristina Morton needed to figure out where she belonged. Where it was that she could settle down and finally fit in. Granted it wasn't the sea but maybe she could figure out where it was and for now it was enough to feel needed.
Chase Barrington couldn't settle, couldn't be tied down. Hell he couldn't let anyone get close. It just wasn't an option. He was not about to get hurt or hurt anyone else again. It's why he chose to be out to be out at sea. It why he chose to see patients for short lengths of time.
The problem on a ship is that there is nowhere to go. Once someone gets under your skin there is no escape. What will Chase and Kristina do when neither can get the other out of their head?
Ms. MacKay has given her readers part two of a two part series. It can be read as a stand alone, I did. I'm hopeful that if you read part one it might make more sense though. This wasn't a bad book, but I will own it was a struggle. I had a hard time getting into it and following it. Ms. MacKay is not an American and there were a lot of colloquialisms that I was unable to follow. This led to an even more difficult read. The plot was okay, nothing special and the characters didn't come to life for me.
Book Info:

Publication: Published June 18th 2019 | Harlequin Medical Romance |
He couldn't save his friend…
Can she save his bruised heart?
In this SOS Docs story, haunted by the fact he couldn't save his best friend, brooding surgeon Chase Barrington dedicates himself to saving lives. He won't get close to anyone again but is blindsided by a passionate kiss with stunning ex-army doc Kristina Morton. Suddenly Chase is on a roller coaster of emotions, but can he leave the past behind and embrace a future with Kristina?