Redemption Falls (Littleton #1) by Kate Hewitt: I liked Linnea, and felt badly for her. When her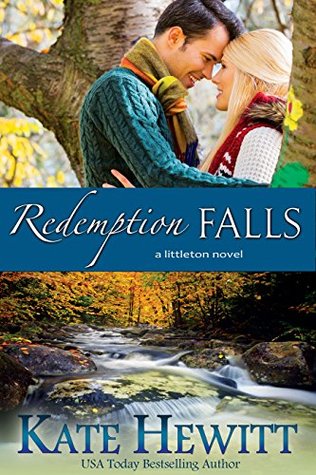 daughter was two, she gave her to her mother to raise at her insistence. Linnea went in a downward spiral, never settling in one place too long, never making friends. It had to be a lonely existence. When her mother asks her to return, she saw it as an opportunity to get to know her daughter, who believes Linnea is actually her sister. She struggles with deciding if Ambler would be better off knowing the truth or not. Amid a strained relationship with both her mother and her daughter, Linnea meets Rob.
I liked Rob as well. He was dealing with his own guilt over how he treated his deceased wife plus struggling with a new job as President of Littleton College, a job that he doesn't seem to enjoy. He's immediately drawn to Linnea, probably because she's blunt and tells it how it is, while everyone else is simply trying to cozy up to him because of his position.
Their relationship is not easy, which I enjoyed because it was realistic. Linnea doesn't understand what Rob would see in someone who is a "townie". Rob doesn't understand why Linnea is hostile towards him because of his position. When tragedy strikes Linnea's family, she has doubts he can be there for her, but Rob proves to both of them that he won't let himself make the same mistakes he did with his wife.
My only issue with any of the characters in this book is with Linnea's mother, Anna. She asks Linnea to come home, giving her hope that she'd be able to form a relationship with Ambler, but then tries to keep Ambler from her. I also found her reasons for originally taking Ambler from Linnea to be selfish. It was almost as if she wasn't happy with the way her daughter turned out so she wanted another opportunity to raise someone to be more like herself.
Overall I really enjoyed the characters and the storyline and would recommend giving it a read.
Book Info:

Published: April 15, 2015 | Kate Hewitt Limited | Littleton #1
It's been twelve years since Linnea Schmidt left Littleton, Vermont–and her daughter Ambler behind. Now she's back to make amends, and the last thing she needs is preppy, new college president Rob Sanders on her case, asking her up to the college on the hill.
Rob Sanders is trying to escape his own mistakes when he returns to Littleton, Vermont, and he isn't prepared for the unexpected attraction he feels for tough girl Linnea. But as an unlikely friendship develops between the college president and the woman hiding behind her don't-mess-with-me persona, will Rob and Linnea be able to help–and heal–each other?