Rekindle the Flame (Hot in Chicago 0.5) by Kate Meader is the book that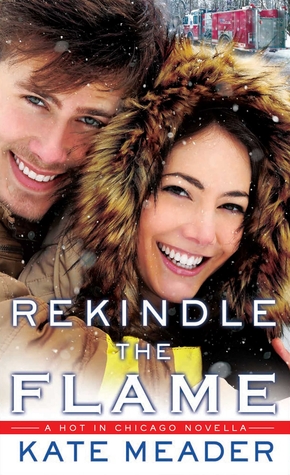 starts the Hot in Chicago series and introduces us to the Dempsey Clan. I have loved everything that Kate Meader has written, yes you can say that I am obsessed. This novella is just the ticket to add some Christmas Spark to your Holiday Season. This is the story of Beck and Darcy.
Beck Rivera is one of the foster sons of the Dempsey Clan. He wants nothing more than to follow in the footsteps of the man that saved his life as a teenager, to honor his memory and that of his older foster brother by becoming a member of the Chicago Fire Department. When working at the family owned bar one night, he runs into (literally) the woman that has haunted his dreams, the woman that he pushed away, he knows that this time, if given the chance, he will never let her go.
Darcy Cochrane is a socialite. She bucks her position at every turn, doing the opposite of what her father wants her to do, wanting nothing more than to follow her heart and live her dreams. When she returns to Chicago to help care for her ailing grandmother, she never expected to run into Beck Rivera, the boy that broke her heart all those years ago. Hiding the truth about her life from Beck might be easier said than done, but falling for Beck again……might just be Darcy's undoing.
What I loved about Beck and Darcy is that the feelings that they had for each other so long ago never died. They were simmering under the surface and just need a little air to start a passionate blaze that consumed them both. I loved that Beck saw Darcy for who she really was, that he accepted her, would not let her hide her light, her talent, all the things that make her the woman that he loved, just to please her father and society. I loved that Darcy did not care about Beck's past, that she loved him because of what he went through, because he fought hard to turn his life around and become a better man.
If you love stories surrounding family, HOT fireman, and a blazing HEA, than this is the book for you.
Book Info:
J

Publication: November 30th 2015 | Pocket Star | Hot in Chicago 0.5
Cuddle up by the fire with the irresistible prequel to Kate Meader's smokin' Hot in Chicago series—originally published in the sizzling holiday anthology Baby, It's Cold Outside—a superhot e-novella that will warm you from your head to your heart and all the way to your toes!
Chicago firefighter Beck Rivera always knew his destiny would be defined by two things: his dream to follow in the footsteps of his legendary foster father Sean Dempsey and his teenage passion for heiress Darcy Cochrane, the one girl who could both stoke and cool his fire. Loving her meant setting her free and breaking her heart—and his. But when a chance reunion at his family's bar, sparked by a drunk Santa, places her in his path again, destiny can no longer be denied.
The last thing heiress-turned-tattoo-artist Darcy Cochrane needs is the rollercoaster of emotion stirred up by her first love: sexy, gorgeous man-on-fire Beck Rivera. But he always had such talented hands. And more talented lips. And…maybe one time can't hurt. Then she'll send him packing like he did to her all those years ago. But Darcy and Beck soon discover that nothing ignites holiday flames like rekindling a lost love…