Rescuing the Royal Runaway Bride by Ally Blake: A marriage of convenience? In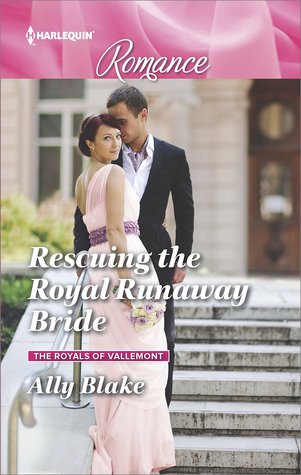 this day and age, who in their right mind would think that would work.
Mercedes, Sadie, Leo, Gray Leonine thought it might, but then as she was running away on her wedding day, it might not. All she could think about was how did she let this happen and what a horrible person she was for not going through with it. Now she just didn't know what to do… other than not get hit by the car that she could hear coming down the road.
Will Darcy wasn't sure what brought him to his old friend's wedding. He hadn't seen the Prince in years and even know he wasn't sure what he was going to say to him. All he knew was that he was here and all of a sudden all the reasons he shouldn't be kept coming back to him. Then in the road there was a female, and he wasn't sure if he hit her or not.
A run away bride and an old friend, what would the public make of that? Why should anyone care? The bigger question is would Will and Leo?
This is a hard book to read. It's the first of a duet and while it is sweet, there is really nothing to it. It is a book that you finish with and you look back and wonder what just happened to the time you just spent reading it. There are some highlights, the characters are delightful and built up really well, they just don't do anything. There is not really a plot to speak of or anything that would make one sit back and say wow. It is a gentle, albeit boring, read.

Book Info:

Publication: May 8th 2018 | Harlequin Romance | The Royals of Vallemont #1
Royal bride on the run…
Into the arms of an enigmatic rescuer…
On the way to the Vallemont royal wedding, Will Darcy's overblown sense of chivalry leads him to rescue a damsel in a muddy wedding dress! And, yes, it's the princess-to-be! While the media furor dies down, they're holed up in one hotel room where irrepressible Sadie makes buttoned-up Will reconsider his life. For once work isn't his priority—resisting the tantalizing royal runaway is!