Cowboy Bold (Longhorn Canyon) by Carolyn Brown is the start of a new and amazing series by an author that really knows how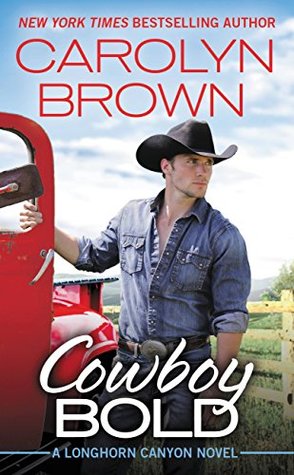 to hook her readers with sexy cowboys, strong women, and all in a bunch of humor, a touch of sadness, and a farm full of animals and you have an steller story waiting to be told. This is the story of Cade and Retta.
Retta Palmer comes to the Longhorn Canyon Ranch answering an ad for a summer counselor position. It will only be for a few weeks, but that will give her time to recover from the death of her father and get her life back in order before she moves on to a new position in the corporate world. What she does not count on is the instant heat, the insane attraction that she has for the hot cowboy who runs the ranch, one Cade Maguire.
Cade Maguire has had his share of heartache, after being left at the alter, he does not want to take a chance on love. Love hurts and loss can break his heart. But there is something about Retta that makes Cade want to take a chance again. He knows that she is only temporary on the ranch, but can he make her see that she is really a country girl at heart?
As Retta and Cade, along with his brother and cousin work with the camp kids, they find that they are able bringing the kids around from angry, frightened, stand-offish hellions, helping them become strong, caring team members who look out for each other and work together to accomplish the tasks before them. And with the help of these kids, Retta and Cade find that sometimes, the chance of heartbreak is worth is if you allow the love to shine through.
I loved this story. I loved the kids, especially Benji. He holds a special place in my heart. It broke for him, but it filled with love and excitement for him as he begins a new life. I love the bickering between the kids, the host of mismatched animals and how the kids sneak to push Retta and Cade together. Everything about this book is a roaring good time, and I cannot wait to read more and to come back to visit everyone on the ranch.
Book Info:

Publication: May 29th | Forever |Longhorn Canyon
One city girl, one die-hard rancher, and eight mischievous kids. What could go wrong?
Every summer Cade Maguire looks forward to opening his Longhorn Canyon Ranch to underprivileged city kids. But this year, he's having no luck finding a counselor for the children-until Retta Palmer walks through his door.
Flat broke after selling everything she owns to pay her father's medical bills, Retta is thrilled to hear of an opening for a counselor position. She's not as thrilled about the ranching part, or the sexy cowboy with beautiful blue eyes who's her new boss.
After being left at the altar two years before by his fiancée, Cade isn't sure he can take another heartbreak. And Retta isn't even sure she wants to stay. But the sparks between them are absolutely undeniable. And with a couple of lovable kids and two elderly folks playing matchmaker, Cade and Retta may find that the best way to heal is with each other.