In Reunited by Their Secret Daughter (London Hospital Midwives #3) by Emily Forbes,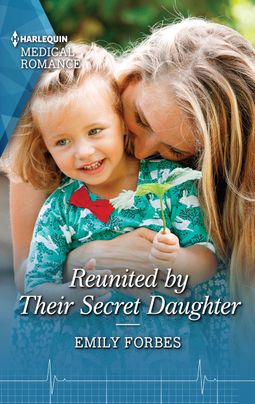 Chloe Larson's life changed twofold when she was on a training mission in Australia four years ago. She met Xander Jameson, a handsome doctor who worked with the air rescue team. They fell instantly for each other and spent the better part of Chloe's four weeks there inseparable. But their liaison had lasting effects as she found out after coming home to London that she was pregnant. And Xander unfortunately disappeared, leaving her no way to tell him the news. Now as a midwife who works with Queen Victoria's Air Ambulance, Chloe gets the shock of a lifetime when Xander joins the team temporarily. But now that she has the chance to tell him about his daughter Lily, will she have the courage to do so? And what about the undeniable chemistry they still have between them?
"I never stopped loving you," she told him. "But I don't know if love is enough."
"Of course it is. What else is there?"
A second chance at romance *and* a secret baby trope all in one story? Yes, please! Emily Forbes' addition to the London Hospital Midwives quartet was touching and full of intense chemistry. And intense emotions, actually. Because oh what a tangled up mess it was between Xander and Chloe–as well as a mixed up series of events that led to them missing out on four long years they could have spent together, blissfully happy.
'His heart swelled with pride at the idea that this gorgeous, bubbly little girl could be his.
His daughter.'
I know secret baby stories can be iffy for some readers. It usually seems to be more well received if there is a solid reason behind why the mother kept the baby's existence a secret from the father. And in Chloe and Xander's case, there definitely was a reason, where they had a short-lived but passionate fling while she was on a training trip. While there weren't any flashback scenes, we did get a good idea of the strong connection they had through our hero and our heroine's thoughts about their time together.
I loved Xander and Chloe's chemistry. It never diminished and, if anything, it grew stronger than ever when they met again. I did think she should have told him about his daughter Lily as soon as she saw him in London instead of waiting for "the right moment". But there were a few surprises in Xander's past and in what happened when he joined the emergency team with Chloe that made their situation even more complicated.
Reunited by Their Secret Daughter was a feel-good romance where the characters were destined to be together, their circumstances were extremely interesting, and which had a HEA magical enough for a fairy tale.
Book Info:

Publication: February 18th 2020 | Harlequin Medical Romances | London Hospital Midwives #3
Her three-year-old secret…
…is about to be revealed!
Between her job with Queen Victoria's Air Ambulance and raising her three-year-old daughter, midwife Chloe Larson's too busy to find love. Only maybe love has found her… Xander Jameson—the gorgeous Australian doctor she had a fling with and who disappeared without a trace—has joined her team! The attraction is definitely still there. But first, Chloe must tell Xander he's a father.
A London Hospital Midwives novel
London Hospital Midwives quartet
Book 1 — Cinderella and the Surgeon by Scarlet Wilson
Book 2 — Miracle Baby for the Midwife by Tina Beckett
Book 3 — Reunited by Their Secret Daughter
Book 4 — A Fling to Steal Her Heart by Sue MacKay
"Overall, Ms. Forbes has delivered a delightful read in this book where emotions run high because of everything this couple go through on their journey to happy ever after…and where the chemistry between this couple was strong; the romance was delightful and had me loving these two together…."
—Harlequin Junkie on Rescued by the Single Dad
"This is the best book I've read by Ms. Forbes so far and I was hooked right from the beginning…."
—Harlequin Junkie on Reunited with Her Brooding Surgeon