The Bachelor by Sabrina Jeffries was the second book in the Duke Dynasty series. The first book was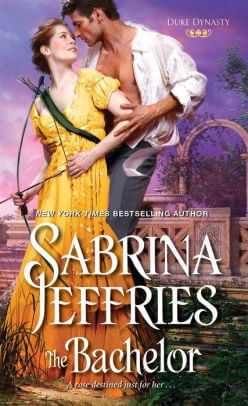 so amazing, I wondered how the author could possibly outshine the first book, but she did it! The book was face paced and so hard to put down once I started it. It had everything you could ask for in a book; romance, scandal, traitors, sabotage, drama, witty banter, and mystery. The characters were well developed, and you could feel the love between all the siblings.
The Duchess of Armitage had married three times and each husband was a duke. She had five children and three of them were dukes, so the siblings all had strong personalities. In the previous book, the gentlemen become suspicious of the deaths of the two previous Dukes of Armitage. They suspect the men were murdered but aren't sure of who or why someone would do such a thing. The mystery continues in this book, but can they solve it before another family member is injured?
Major Joshua Wolfe was the Duchess of Armitage's nephew by marriage and had been injured while in the Royal Marines during the war. He was on half-pay and eager to return to the marines, but his leg was injured, and he had limited movement with it. His injury made him very self-conscious, grouchy and temperamental. After saving Lady Gwyn from a "kidnapping" from her previous suitor, the Duke of Thornstock "Thorn" (Gwyn's twin brother) offered him the position of guarding Lady Gwyn during the season. Joshua accepted hoping to see the Secretary of State for War and Colonies once he arrived in London, since his letters requesting to return to duty hadn't been answered. He tried to deny the attraction he felt for Gwyn because he felt for sure she wouldn't want a husband who was damaged, but being her guard made it hard since it put them in constant contact with each other. Rather than allowing Joshua to return to duty, Mr. Fitzgerald, the undersecretary to the War Office, hires him to keep an eye on Mr. Malet and his activities.
Lady Gwyn's stepfather, the previous Duke of Armitage, had been an ambassador in Prussia. She had meet Lionel Malet there, but her brother had paid Lionel to disappear, leaving an upset Gwyn. Unfortunately, Gwyn was pregnant from their one night together but miscarried, so she was able to keep her family from finding out the truth. Once her family returned to England, her past came back to haunt her when Malet tries to blackmail her for keeping their past a secret. Due to her past and her fears, she felt like she wasn't good enough to marry Joshua.
Both Gwyn and Joshua had personal insecurities that they had to overcome for them to go forward in their relationship. They were both wonderful characters and perfect for each other. The next book in the series is Gwyn's twin, Thorn's story and looks like it will be just as interesting and exciting!
Book Info:

Publication: February 25th 2020 | Zebra Books | Duke Dynasty #2
Lady Gwyn Drake has long protected her family's reputation by hiding an imprudent affair from her youth. But when her former suitor appears at Armitage Hall, manhandling the heiress and threatening to go public with her secrets, it's Gwyn who needs protecting. Her twin brother, Thorn, hires Joshua Wolfe, the estate's gamekeeper, to keep her safe in London during her debut. As a war hero, Joshua feels obligated to fulfill the assignment he has accepted. But as a man, it's torment to be so very close to the beauty he's fought to ignore . . .
With handsome Joshua monitoring her every move, Gwyn would prefer to forget both the past and the parade of money-seeking bachelors at her coming out. But Joshua is unmoved by her attempts at flirtation, and the threat of blackmail still hangs over her. With danger closing in, Gwyn must decide which is the greater risk: deflecting a scoundrel's attempts to sabotage her–or revealing her whole heart to the rugged bodyguard she can't resist . . .