In Taken by the CEO (The Scandalous Wentworths #1) by Stefanie London, Emmaline Greene never meant to be deceive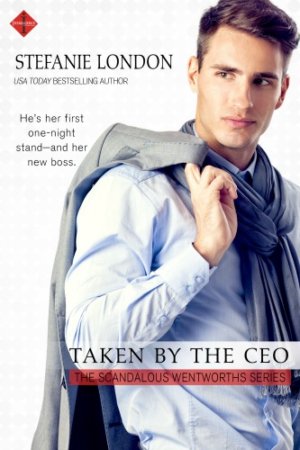 anyone, especially not her new boss, but being the anonymous Sarah the night she met him was the best night of her life. However, she's not about to let her personal life get mixed up with her professional one, not if she can help it since she's up for a promotion. The stakes are simply too high, and she's not about to let anyone think she's getting preferential treatment from the boss. Can Emmaline and Parker find a way to work together, or will Emmaline put her dreams on hold to have a chance at forever love with her sexy new boss?
 "I'm not saying you'll be the kale kind of sex. I know you definitely won't be. I can tell that already…" She sucked on her lower lip and sighed. "Can we just forget I said anything?"
"Oh no, you don't get out of it that easily." He shook his head. "What type of sex do you think I'll be?"
"Better than cake." Her lower lip glistened, tempting as ripe fruit. "Better than champagne and macarons and filet mignon."
"That's some pedestal you've put me on."
Ever since reading my first book by Ms. London, I've really looked forward to every one of her releases since, and I've got to say that this first book of her Scandalous Wentworths series was riveting, fast-paced and a story I couldn't get enough of because of the growing relationship between Parker and Emmaline. The way the hero and heroine met had me laughing, because the heroine desperately needs his help. How could a dog best her by doing what it does?
As for the dialogue, it was intense due to the main characters back stories, especially that of the hero. He hasn't been able to forgive his dad for what the man did to their family, and it puts him at odds with his siblings. What will it take to forgive his father? Will Emmaline be able to help him see reason when no one else can? However, there was also plenty of playful dialogue between the hero and his brother and between the main characters. Emmaline tries her best to ignore her attraction to Parker, but he does not make it easy to resist him.
"Or maybe they'll call you the Terminator if you keep firing people," Ian added.
"It's my job to start picking up the pieces. Arthur has made a right f****** mess of that place."
"Lighten up, Park. When was the last time you got laid?" Ian snorted. "Or do you only get a hard-on for numbers these days?"
Parker shot his brother a look. "One of us needs to focus on keeping the family business going. You should thank me for protecting your inheritance."
"I'm looking out for you." Ian chuckled as they rounded a corner. "You know if you don't use it, you lose it."
Both characters had me hooked by their back stories and their growing relationship. They have some hard decisions to make, and I felt sorry for Parker in the moments when it seemed he couldn't make the right choices that end with Emmaline and his siblings being disappointed in him. Furthermore, he's confident in his new position as CEO of the family business and I liked how determined he was to turn things around after what his father did. While the heroine, she's strong, brave and I liked how determined she was to turn her life around after her ex-husband. He was a real jerk that didn't deserve her for the strong, independent woman she is. Instead, he made her into the trophy wife he wanted and I liked how she fought to get her independence back by not allowing Parker to interfere in her career aspirations. No way did she need her colleagues to judge her on how she got her promotion, if she did end up getting it.
Overall, Ms. London has become one of my go-to authors for contemporary romance and this book starts off her Scandalous Wentworths series really well. Parker and Emmaline have incredible chemistry, which spilled over onto the pages in hot sex scenes, and had me wondering when the heroine would realize that Parker is nothing like her ex. That they would be equal partners in a relationship, if she would give him a chance at forever love. The last chapter and epilogue wrapped this story up wonderfully, as Emmaline is no longer afraid of everyone knowing how much Parker means to her, because they both deserve the happiness they've found together. Who knew Parker was such an overachiever in both love and life? That he'd be able to find it in himself to forgive the past with Emmaline's help. I would recommend Taken by the CEO by Stefanie London, if you enjoy second chance romances.
Book Info:

Publication: March 13th, 2017 | Entangled Publishing | Scandalous Wentworths #1
It was only supposed to be a little white lie. When Emmaline Greene pretends to be Sarah, the confident, sexy woman she wishes she could be, she figures no harm, no foul. Her one-night stand will never find out. Wrong. The gorgeous guy she slept with isn't just amazing in bed…he's also her new boss.
Parker Wentworth has a lot to prove. He's just been appointed CEO of his family's company and is tasked with repairing its scandalous reputation. He can't afford any distractions or complications. Too bad the attractive blonde he takes to bed turns out to be both. So why can't he forget the incredible night they spent together and move on?
And why does he have this need to know the real Emmaline?