In Riley Thorn and the Dead Guy Next Door by Lucy Score, Riley Thorn can't help but feel like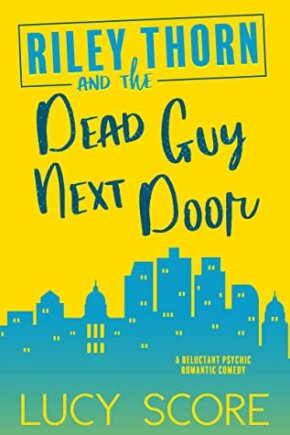 she's failing at the whole adulting thing. With a divorce under her belt, and a mountain of debt forcing her to live in a tiny apartment surrounded by neighbors decades older than her, yeah. Things could be better. And there's also the annoying "gift" Riley has of being able to see into the future which she's tried to ignore. But when her neighbor in the apartment across the hall is killed and all hell breaks loose, her visions might just come in handy after all. If Riley can figure out how to control them. And if she can keep her mind on the mayhem around her and not the sexy private investigator who shows up at her door.
"My lady parts are so rusty I don't know if they could actually handle a night with Nick Santiago in my bed."
Jasmine was shaking her head. "Girl, we need to get you some WD-40 and a shot of confidence."
Nick Santiago never met a woman he couldn't charm. Which comes in handy in his line of work. But good girl Riley Thorn might prove to be his biggest challenge yet–something that could be very, very fun. Or it could put them both in danger. Because as Nick investigates the death of Riley's neighbor, one clue after the next points to her being in harm's way. And her eclectic band of aging cohorts are making things even more dangerous with their tomfoolery. But Nick is determined to solve the case and win the girl. Well, win Riley's attention temporarily, seeing as he's not a forever kind of guy. Although when his thoughts stray to a future with the psychic hottie, Nick might have to rethink his stand on long-term relationships.
'His gut told him Riley Thorn was nothing but trouble. But that was more of a turn-on than a deterrent.'
What an experience! Riley Thorn and the Dead Guy Next Door had a laugh-until-you-have-tears-in-your-eyes level of comedic timing, sweet & swoony romance, a kickass mystery plot, and one of the most memorable, lovable, offbeat cast of characters I've read in a long time.
"Damn it, Thorn. Get inside and lock the door." All casualness was gone.
"Look, I keep locking the door, and my neighbors keep letting criminals inside."
I know going into a Lucy Score romance that I'm guaranteed some laughs. But I somehow forget *exactly* how funny her books truly are until I'm in the pages, giggling myself silly. And Riley Thorn and the Dead Guy Next Door just might be her most hilarious adventure yet. Between the thrilling action scenes after Riley's neighbor was murdered and the investigation began, and poor Riley trying to keep her "free range" geriatric neighbors from creating further havoc, that alone was enough to keep me interested. But add in Nick, the sexy PI bad boy with a good heart? Oh, I was totally in to see where the story would take us.
Riley made a standout heroine–one who I think readers will find relatable and even pretty darn heroic by the time the story ends. She was stuck in the drudgery of her daily life with no hint of a romance blooming anytime soon. And Riley was fighting to keep the visions that she told herself were dreams at bay…with no luck. Then her neighbor was killed and private investigator Nick Santiago (such a great name!) entered the picture. He was my favorite type of hero. The guy who's a bit of a rebel but has a good moral compass and is more misunderstood than a true troublemaker. Sigh… The fun part was watching Nick, who wanted to remain unencumbered, fall head over feet–literally–for Riley, who was more of a happy-ever-after gal.
I have to mention Riley's elderly neighbors–in what I've come to think of as the AARP Apartments–and all of their shenanigans. Oh. My. Word. Every last one of them was ridiculously entertaining, although Mrs Penny was probably the one who made me giggle-snort the most. But I also loved Riley's new age-ish family, their love and support of her in their own, ahem, unique way. And Nick's crew blended in nicely and added to the zaniness that followed him and Riley wherever they went.
Riley Thorn and the Dead Guy Next Door was Lucy Score at her delightful, witty best and an absolute blast of a rom-com murder mystery that I wanted to start all over again as soon as I finished reading. Highly recommended.
Book Info:

Publication: Published August 27th 2020 | That's What She Said Publishing |
A nice, normal life. Is that too much to ask? For Riley Thorn it is. Divorced. Broke. Living with a pack of elderly roommates. And those hallucinations she's diligently ignoring? Her tarot card-dealing mom is convinced they're clairvoyant visions.
Just when things can't get worse, a so-hot-it-should-be-illegal private investigator shows up on her doorstep looking for a neighbor…who turns up murdered.
Nick Santiago doesn't play well with others. Unless the "others" are of the female persuasion. Wink. He's a rebel, a black sheep, a man who prefers a buffet of options to being stuck with the same entrée every night, if you catch his drift.
When the pretty, possibly psychic Riley lands at the top of the list of suspects, Nick volunteers to find out whodunit. Only because he likes solving mysteries not because he wants to flex his heroic muscles for the damsel in distress.
All they have to do is figure out who pulled the trigger, keep the by-the-book detective with a grudge at bay, and deal with a stranger claiming he was sent to help Riley hone her psychic gifts. All before the killer discovers she's a loose end that requires snipping.