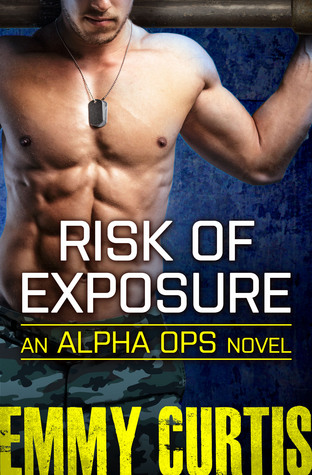 In Risk of Exposure by Emmy Curtis, Malone Garrett is assigned to watch his boss's daughter, Abby Baston, who's working at an orphanage in the Ukraine. Malone starts off believing that Abby is boring and just wants to be assigned to another case. The more he watches her, though, he realizes that she's more than an orphanage worker. Despite the fact she's the boss's daughter, Malone wants her, and he wants to figure out what secrets she's keeping.
Abby is in the Ukraine working undercover for the CIA. Her mission is to recover evidence that the Russians are attempting to overtake Ukraine. When she meets Malone, she's led to believe he's a humanitarian worker and she's immediately attracted to him. She tries to keep him at arm's length, but when the situation turns dangerous and it looks like Russia is about to invade, she needs help and has no choice but to confide in Malone.
Both Malone and Abby are strong, independent characters, and I enjoyed them both as individuals and as a couple. Right from the first page, Malone had me laughing with a report he submitted to Baston about his daughter.
Baston is still unaware. Her days have a routine that anyone could follow. And I mean anyone. My grandmother for instance. Each day she goes for a three-mile run, drives to the orphanage, and returns home.
I have been able to raise my skill level in Candy Crush, though, so I try to look on the bright side. I'm on level 1038 now. I'm a fucking genius at this. Have you tried it?
He's a sarcastic and a bit snarky, but Abby gives it right back to him. She's a strong, confident woman in a dangerous situation. And while she admits she was trained for her job, she was also glad to have someone like Malone to have her back.
While this is the sixth book in the series, it can be read as a standalone. I've only read one prior book in the series, Blowback (book #4 in the series), and I had no problem following along since the story mainly focuses on Malone and Abby. The only character that makes an appearance from the agency Malone works for is Abby's father, and even that's only very briefly.
If you enjoy romantic suspense, this is a book for you.
Book Info:

 May 3, 2016 | Forever Yours | Alpha Ops #6
He is a trained professional—but nothing can prepare him for the hottest mission of his life. Assigned to protect his boss's daughter, British former SAS operative Malone Garrett breaks the first rule of covert surveillance—don't make contact. And especially don't take your mark out to dinner, then agree to a rooftop quickie. But now that Mal has Abby in his arms, he has no intention of ever letting her go.
Abby Baston told herself it was a hit and quit, a one-nighter with a hot, handsome stranger whose hands were trained to take action. Working undercover for the CIA, she can't risk anything more. But when an international crisis ignites, Abby must make a call: trust Mal with her secret—and her heart—and partner up, or lose everything in a split second . . .