Rome In Love by Anita Hughes was a sweet story filled with heartbreak, lies, friendship,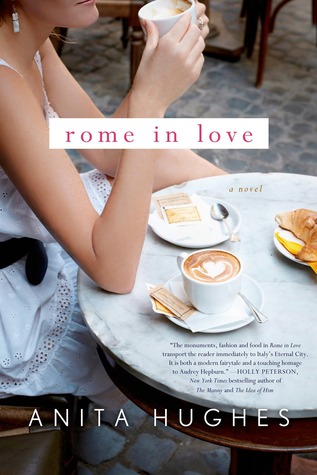 forgiveness, and love.
While Amelia is playing a role previously portrayed by Audrey Hepburn, she comes across a stack of letters written by the actress. So we not only get Amelia's story, but we also get a story about Audrey Hepburn and her career at the same time. The back and forth between Amelia's story and Hepburn's story was interesting, as was the fact that the letters helped Amelia deal with the things that were going on in her life.
I liked Amelia and Philip together. While I didn't like Philip's initial reason for wanting to be with her, I felt he redeemed himself in the long run by doing the right thing for everyone involved.
Amelia's new friend Sophie has a side story within this book. While I liked Sophie and her love story, I felt it took away the focus from Amelia and Philip a little bit, especially since we were already getting another side story with the letters.
I only really have two issues with this book. The first is that it felt like it moved slowly in some spots. The second is that, in my opinion, the book ends abruptly. It's not a cliffhanger but it just ends. I kept trying to slide the page on my Kindle until I realized that there weren't any other pages.
If you're looking for something sweet filled with a little bit of drama, you might want to consider giving Rome In Love by Anita Hughes a try.
Book Info:

Published: August 4, 2015 | St. Martin's Griffin |
When Amelia Tate is cast to play the Audrey Hepburn role in a remake of Roman Holiday, she feels as if all her dreams have come true. She has a handsome boyfriend, is portraying her idol in a major motion picture, and gets to live in beautiful Rome for the next two months.
Once there, she befriends a young woman named Sophie with whom she begins to explore the city. Together, they discover all the amazing riches that Rome has to offer. But when Amelia's boyfriend breaks up with her over her acting career, her perfect world begins to crumble.
While moping in her hotel suite, Amelia discovers a stack of letters written by Audrey Hepburn that start to put her own life into perspective. Then, she meets Philip, a handsome journalist who is under the impression that she is a hotel maid, and it appears as if things are finally looking up. The problem is she can never find the right time to tell Philip her true identity. Not to mention that Philip has a few secrets of his own. Can Amelia finally have both the career and love that she's always wanted, or will she be forced to choose again?