Royally Bad by Nora Flite: Sammy is a talented designer who is just trying to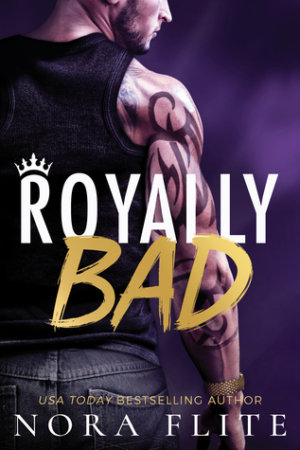 make ends meet. She left a promising career in New York City to come back home and help out her parents. She doesn't regret her choice, but she's also feeling the pressure.
Kain Badd is a sexy, bad boy type who refuses to take "no" for an answer, especially when a little extra money can smooth the way. He's used to getting what and who he wants and is used to women chasing after him. He's loyal to his family and protective.
Sammy's life then immediately changes when Kain and his sister invade her dress store. In the blink of an eye, she goes from a wedding dress designer to a wedding planner. The money is good, but getting caught up in the wedding craziness puts Sammy directly in the path of Kain. She can't deny the immediate and overwhelming attraction, but she could do without his cocky, arrogant attitude.
"I've got something else I'd love to give you," she grumbled. "You're lucky my father raised me so well." Her hand fisted at her side, clenching and releasing over and over.
"Are you thinking about punching me? Careful, I love tough women."
Kain is pure temptation and he makes her an offer that she just can't refuse. Their night together is beyond her expectations, but she's also looking to file that away as a one-off. Except Kain's family isn't quite what they seem and she's quickly drawn into a rivalry she doesn't understand. Kain's family has many secrets and she can seemingly only scratch the surface. When Sammy is in trouble, Kain presses his advantage to insert himself into her life. When they aren't fighting, they are teasing each other.
"Why were those shoes with you? I thought that I'd-"
"Hidden them away in your bedroom to worship in private?"
His grin cut sideways. "What's creepier, me keeping them or you sneaking into my room to get them back?"
Royally Bad has sex, drama, angst, and suspense. Nora Flite created a dynamic and unique family in the Badds who work and fight together. Ms. Flite wrote some fun banter and good conflict. Fans of Sophie Jordan and Kirsty Moseley will enjoy Royally Bad.

Book Info:

Publication: Published April 1st 2017 | Montlake Romance | Bad Boy Royals #1
Getting close to an arrogant bad boy like him is dangerous. Too bad it's her only choice.
Kain Badd looks great on paper: rich, handsome, and he's even a prince. But after spending a few minutes together, Sammy sees the real him—arrogant, possessive, and too hot for his own good. If she hadn't agreed to help plan his sister's wedding, she could have avoided him. Instead, she's waking up in his bed after an unforgettable night she definitely wants to forget. But he won't let her.
When Sammy thinks her life can't get any crazier, the wedding is raided by the police, and she spends her first-ever night in jail. The irresistible Kain isn't just bad in name—his family is connected to a dangerous underworld. Now she's mixed up in a power struggle between his family's empire and their rivals. She has no choice but to put herself back in this filthy prince's extremely capable hands.
Sammy must trust Kain to keep her safe. She's just not sure she can trust herself to resist temptation.