In Ruined With You (Stark Security #3) by J. Kenner, As personal manager to rising pop star Ellie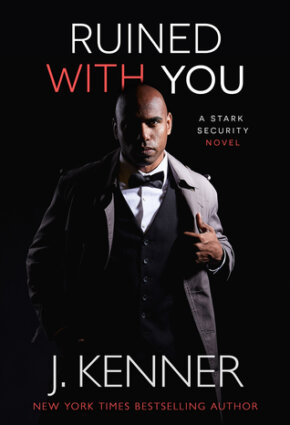 Love, Xena Morgan takes safety very seriously. Her boss, who is also her close friend, has been targeted before–a threat they thought was cleared by Stark Security agent Liam Foster. A man who is all too tempting to Xena. But when Ellie is attacked, Xena knows she must contact Liam again. Only this time, she's afraid it's someone after her, not Ellie, and she's not sure how to explain it to Liam without giving her disastrous past away. Hiding out will do no good. So it's time Xena faces down her fears and hopefully with Liam and Stark Security's help, she can end things and finally no longer need to look over her shoulder every moment of every day.
'For the first time in my life I feel cherished. Adored. Respected… This man is a miracle, and I've never been a woman who believes in miracles.'
Liam's past work in the military and in Dallas Sykes' Deliverance program gives him a special set of skills that works well for his job with Stark Security Agency. So considering his high level of experience, he hates to feel like he's failed a client. When Ellie Love is threatened again, Liam is determined to find and eliminate the threat. But he didn't think it would have ties to her assistant, Xena. He'll admit that he knew she was hiding something, although he never could have predicted how harrowing a life Xena had led up until about six years ago. Liam finds himself in awe of her strength, let alone her beauty and her feisty attitude. She's the type of woman he could see himself settling down with. But in his dangerous line of work, he's not willing to make her a target of the bad guys he chases down.
'He would protect her. That was the mission. That was what he'd been hired to do.
He would fall in love with her because he couldn't help it.
But in the end, he would leave her, because he had to.'
Deliciously sexy romance. Action and intrigue. Personal demons to conquer. What more can a reader ask for of a J. Kenner novel, right?
'He'd seen enough damaged people to know that her soul was at least as scarred as his.'
I was so excited when I found out about Liam getting his own book. He's been a character who has appeared in several Stark Universe stories and he's always been this cool, badass guy that you just know has some dark, hidden secrets. And boy did he ever. My heart broke over the personal loss Liam suffered. He had such strength and conviction, though, going forward and used his anger to help others by being a part of Stark Security. The way Liam handled Xena's crisis and was so understanding about her past was swoon-worthy and spoke to the great guy his awesome mother raised. (Yes…we got a full scene with his mother and it was SO stinking sweet and fun!)
Xena's nightmare of a past coming back to haunt her will be tough for some sensitive readers to get through. It wasn't super detailed, but enough that I got misty-eyed and then angry over how she was treated and what she endured before earning her job with pop sensation, Ellie Love. I was extremely impressed with Xena's courage, hard-working attitude, and compassion after all she'd been through. And I understood why she and Liam wanted to protect each other. They both were being targeted by bad guys and with his line of work, Liam knew Xena would continue to be in danger in the future if they forged a relationship. So to me it was thoughtful and lovely that they put each other's well being first. But don't worry, it all works out to their benefit after lots of investigating and some tense action scenes.
J. Kenner writes some of the best alpha heroes and strongest heroines in romance. Liam and Xena's exciting, wild ride was a stellar addition to an already incredible lineup in the Stark Security series leaving me to wonder what greatness Kenner will have next for us fans.
Book Info:

Publication: Published September 24th 2019 | Martini & Olive | Stark Security #3
When her high maintenance boss is assaulted, manager Xena Morgan contacts the only person who can help—the sexy, arrogant, incredibly capable Stark Security agent Liam Foster. The former vigilante takes every case personally, and he's determined to find answers—particularly since he thought he'd cleared this threat already.
Xena had been thrilled when Liam completed his assignment, because he affected her in ways she didn't want to contemplate, awakening yearnings that threatened her deepest secrets.
But now she needs him, and her body won't let her forget it.
As their attraction heats to a feverish degree, the web of lies, danger, and passion they find themselves in tangles further. Liam will stop at nothing to protect his client, even if it means sacrificing everything he holds dear … and exposing the secrets that may destroy him—and Xena—forever.