Rule Breaker by Joanne Rock is the third story in her Dynasties: Mesa Falls series, and features an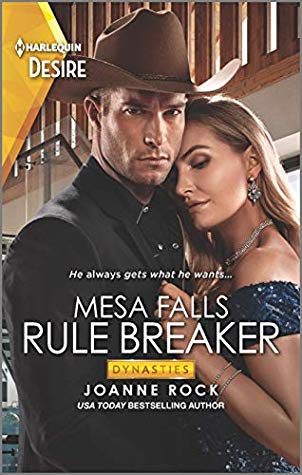 intrepid financial investigator looking for answers and the rancher who can provide some of them – and something more. It's a standalone romance, but continues an overall series plot.
April Stephens has been hired by Alonzo Salazar's heirs, brothers Marcus and Devon, to track down the money Alonzo made when he wrote an anonymous book about a celebrity family. That book had consequences for many people and brought attention to the Mesa Falls ranch and the men who run it.
Weston Rivera is one of those men, a rancher and former student of Alonzo who wants to protect the memory of his mentor and also some of the events that happened while he and his fellow students were teenagers – events he fears April will discover in her quest to find out more about Alonzo. But he can't deny that keeping April at arms length isn't exactly what he wants, intrigued by the smart and savvy beauty despite how her investigation could cause him problems. Can they find a balance that will give April her answers, and enable them to explore their feelings for each other?
I've been enjoying this series and the uncovering of all the mysteries that bind the men of Mesa Falls! The story does a good job of explaining what has happened before, enough that a new reader could start with this one and know what's going on, but I also recommend the previous series books which are equally interesting and entertaining.
The story starts with a 'forced proximity' a.k.a. trapped in a blizzard trope, with April having gotten caught out in a storm in the mountainous terrain near the ranch and Weston, a volunteer search and rescue member in addition to his ranching duties, having gone to her aid. This enables them to develop a close bond, one that lets them explore their mutual attraction and leads to some sexy and passionate love scenes.
Both Weston and April have secrets that are slowly revealed to each other as the story progresses. For April, it's the challenge of having a mother who is a hoarder, a woman whose mental health is at issue and for whom April feels ultimately responsible. For Weston, it's the events that happened when a group of young friends went out on an unauthorized outing from school and lost one of their friends to mysterious and troubling circumstances. That death has weighed on him ever since, and the secret has bonded his group of friends who run the Mesa Falls ranch. And then there's Alonzo's missing money, the reason for April being at the ranch and looking into the relationship between Alonzo, who stayed at the ranch after retiring from teaching in between mysterious trips (some of whom involved Weston's aunt), and the students running the ranch now as adults. It all adds up to intrigue and drama that is entertaining from first page to last.
There are still some stories to be told with the other Mesa Falls owners and Alonzo's secrets are still unfolding. April and Weston, once they share their secrets with each other and admit that they want more then just a short term fling, get their happy ending. I'm looking forward to reading what comes next!
Book Info:

Publication: Feb 01 2020 | Harlequin Desire | Dynasties: Mesa Falls #3
He always gets what he wants…
She's strictly off-limits.
That's never stopped him before.
Rebellious rancher Weston Rivera knows saving April Stephens during a blizzard at his luxury retreat is risky. But it's not nearly as dangerous as the desire blazing between them. After all, Weston is a prime target of April's current financial investigation at Mesa Falls—and he's hiding secrets. Now their searing passion is melting the lines between business and pleasure…even as it threatens Weston's entire world.